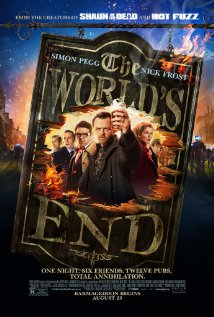 There have been a variety of doomsday movies recently:  World War Z, This is the End and The World's End just to name a few.  Some are action-adventure, suspense or even comedy, but the theme is the same:  the end of the world as we know it (TEOTWAWKI).  In addition, there are a number of reality shows such as Doomsday Preppers,  Doomsday Castle and others that deal with people trying to prepare for disasters.
These type of shows are so prevalent, but what do they do for the average prepper?  Do you watch these shows?
As with everything else, I see the Pros and Cons:
Pros:
They get people to imagine what they would do in such as situation.
Once people start thinking about various scenarios, they start talking about it, and a dialogue is always a good thing.  I've mentioned in a past article how watching The Walking Dead was a good conversation starter about preparing for actual disasters
The idea of prepping becomes more acceptable.
Cons:
The more outlandish characters featured may cast preppers in the "nutty" category, and not to be taken seriously.
If the story is too far-fetched, it can make people more detached and consider disasters as being "only in the movies"
Fear of being labeled
I've personally seen several of these types of movies, watch episodes of Doomsday Preppers, as well as survival shows such as Survivorman's Survival Secrets.   At the very least, I think these shows get people who may never have considered it, thinking about the need to prepare.  Some people may appear more extreme than others, and thus may be labeled as a "fringe" element, while others will fear being associated as one.
All in all, the way I see it, we're all better off if everyone became more prepared for emergencies.  I'm not even talking about doomsday, or anything collapsing; natural disasters and financial disasters can and do happen.  If survival and prepping shows get people to start preparing for any emergencies then that is a good thing.
An upcoming new show that I will watch
I just heard about a new show that I am interested in seeing and here is a brief description:
AMERICAN BLACKOUT:  a two hour special is coming up on Nat Geo about what can happen during a catastrophic blackout across the United States.  No cell phone service, no ATM withdrawals, no working street lights, no available gasoline … no escape.   From what the Nat Geo rep told me, American Blackout combines user-generated footage from recent real blackouts and disasters like Hurricane Sandy intercut with the feature film.   It will follow the struggles of ordinary Americans wrangling through the chaos, and witness one prepper family who prepared for the worst.
The show will air on On Sunday, October 27, at 9 p.m. ET/PT.
 Here's a trailer to American Blackout
What would you do if power was gone?
Water is one of the biggest needs when it comes to survival.  Whether bugging out or sheltering in place, you can never have enough clean water for survival:
For your water purifier needs, please visit
: