This post is by Bernie Carr, apartmentprepper.com
I was recently having a discussion with my sister-in-law about preparing for the next power outage when she mentioned she had a few batteries leak acid all over her other fresh batteries. That's because some of the batteries in her supply stash had expired and started to leak. She said the batteries look like they burst and some dried up crystalline looking residue was all over the rest of her battery supply.
She lost a lot of batteries and had to clean the rest individually.
Do batteries expire?
It's always a good idea to check your inventory, check for expiration dates for food and battery supplies. Batteries do have a limited shelf life.
Yes, all good things must come to an end. To find the Best If Used By (BIUB) date of the batteries in question, please look on the uppermost section of the cells, near the battery type (AA, 9V, etc.). You will see a white box with the Best If Used By year printed within it.You can find smaller cells BIUB on the packaging. The best consumer experience and battery performance occurs with battery usage before the Best If Used By Date. The battery may function beyond that date but with lower performance.

Source: Energizer
We've lost a lantern and other gear from leaking and corroded batteries, and have learned to remove batteries when storing for long term.
What happens when batteries leak?
As my sister-in-law observed, the batteries had leaked acid. Battery battery acid is corrosive and can burn skin, ruin devices that it has leaked into, and contaminate soil. Household battery leakage is alkaline due to the potassium hydroxide chemicals. If you see battery leakage, avoid touching it with your bare hands or you may get a chemical burn.
According to the Energizer website, you should wear gloves and protective eye gear when handling battery leakage. To clean the leakage off devices or other batteries, vinegar or lemon juice can be used as cleaners.
If attempting to clean battery leakage from a device, proper safety equipment would be advised (i.e., protective eye wear, gloves, etc.). The leaking batteries should be removed from the device and placed in a plastic bag for disposal in the trash. The best way to remove alkaline leakage from the device is to neutralize by carefully dabbing with a few drops of a mild acid like white vinegar or lemon juice. For stubborn leaks, an old toothbrush dipped in vinegar or lemon juice gets the job done. After the leakage has been neutralized (fizzing stops), carefully dry the area. After the area has dried thoroughly, the metal device contacts can be scraped to remove any residue and then polished using a pencil eraser.

Source: Energizer
Get a battery tester
We have a fairly large supply of batteries from a couple of years ago.  We could not tell how fresh they are:  some are approaching expiration and some are partially used from a power outage or two.  Not wanting to just toss them out without checking their usefulness, Mr. Apt Prepper decided to buy a universal battery tester.  It costed less than $10 and tests standard and rechargeable household batteries: AA, AAA, C, D, 1.5V,9V and button types.
All you have to do is touch the top and bottom of the battery to the tester and the dial will show how much battery life is left.  He just checked each on while watching TV and was finished in a couple of hours.
Save money
The battery tester also helps you same money. You can test an used battery by checking battery voltage to determine whether the capacity of the battery is low or high. It won't show the exact battery capacity but will keep you from wasting perfectly good batteries that you may have thrown out otherwise.
Consider picking one up for your emergency stash and use it right away.  Whether your area is prone to hurricanes, ice storms, tornadoes or earthquakes, you will need to use batteries at some point.  Now we know our batteries will work when we need them the most.
---
About the author
Bernie Carr is the founder of Apartment Prepper. She has written several books including the best-selling Prepper's Pocket Guide, Jake and Miller's Big Adventure, The Penny-Pinching Prepper and How to Prepare for Most Emergencies on a $50 a Month Budget. Bernie's latest e-book, FRUGAL DIY has just been released on Amazon. Her work appears in sites such as the Allstate Blog and Clark.com, as well as print magazines such as Backwoods Survival Guide and Prepper Survival Guide. She has been featured in national publications such as Fox Business and Popular Mechanics. Learn more about Bernie here.
FB: https://www.facebook.com/apartmentprepper
Instagram: https://www.instagram.com/apartmentpreppers/
Twitter: https://twitter.com/AptPrepper
YouTube: https://www.youtube.com/channel/UC7vOtdbo-wiBeBxD6puCr1Q
Pinterest: https://www.pinterest.com/aptprepper/
For more preparedness tips, read my book: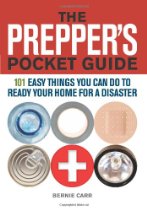 ---
If you found this article interesting or helpful, please consider helping us out (without costing you anything)! We are an affiliate of Amazon.com, which means we received a small commission if you click through one of our Amazon links when you shop, at totally no cost to you. This helps keep the lights on at the blog. Thanks!
Image by PublicDomainPictures from Pixabay