This post is by Bernie Carr, apartmentprepper.com
According to a new 2020 report by the Centers for Disease Control (CDC), 34.2 million Americans—just over 1 in 10—have diabetes. If you or a family member are managing diabetes, you need to include specific supplies in your emergency kit. Another situation you should know about is a bug-out situation and a diabetic person needs to travel away from their home base.
I am not a medical professional so I thought it would be a good idea to get some information from a physician. William A. Forgey, M.D. is veteran outdoors author and full-time practitioner of family medicine wrote The Prepper's Medical Handbook. It has a great section on managing diabetes which Dr. Forgey gave us permission to reprint here. Here are some highlights:
Managing Diabetes
Diabetic children and adults can have an active 0ff-grid life but learning to control their diabetes must first be worked on with their physicians. The increased caloric requirement of significant exercise may range above an extra 2000 calories per day, yet insulin dosage requirements may drop as much as 50%.
Identify signs of low blood sugar
The diabetic, as well as the partners, must be able to identify signs of low blood sugar (hypoglycemia):
staggering gait
slurred speech
moist skin
clumsy movements
Know the proper treatment, for example, oral carbohydrates or sugar candies and, if the patient becomes unconscious, the use of injectable glucagon. The urine of diabetic outdoor travelers should be tested twice daily to confirm control of sugar. This testing should preclude a gradual accumulation of too much sugar, which can result in unconsciousness in its advanced stage. This gradual accumulation would have resulted in a massive sugar spill in the urine and finally the spill of ketone bodies, providing the patient ample opportunity to increase insulin dosage, to prevent hyperglycemia (too high of a blood sugar level). Battery powered, point-of-care blood sugar test devices (glucometers) must be included in the personal property of anyone taking insulin.
Insulin
Storage of insulin off the grid, where it forgoes recommended refrigeration, is not a major problem as long as the supply is fresh and direct sunlight and excessive heat is avoided. Unopened insulin usually has an expiration date of one year. With proper storage, this might be extended several years, but there is an unknown finite point when it will not be viable. Biologicals such as insulin will not have long, extended storage times. Syringes, alcohol prep pads, Keto-Diastix urine test strips, insulin, and glucagon are light additions to the Off-Grid Medical Kit.
The final word
Based on the information gathered from The Prepper's Medical Handbook, diabetics should include the following in their survival kits:
Diabetes medication
Insulin, properly refrigerated
oral carbohydrates or sugar candies
injectable glucagon
Battery powered, point-of-care blood sugar test devices (glucometers)
Syringes
See your doctor about making healthy lifestyle changes, implementing a weight loss program, and choosing the right foods.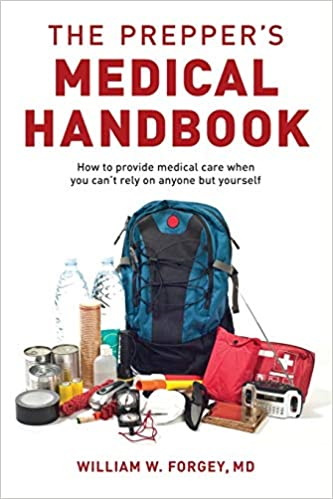 The Prepper's Medical Handbook includes a wealth of information you should have at your fingertips in case an emergency happens during a disaster, or if you are unable to get to a hospital due to overcrowding (such as the COVID-19 pandemic). I received a review copy and found it contains valuable "need to know" ideas. I recommend anyone who wants to be prepared (whether diabetic or not) should own this book.
*************************************************************************************
We are an affiliate of Amazon.com, which means we received a small commission if you click through one of our Amazon links when you shop, at totally no cost to you. This helps keep the lights on at the blog. Thanks!
About the author:
Bernie Carr is the founder of Apartment Prepper. She has written several books including the best-selling Prepper's Pocket Guide, Jake and Miller's Big Adventure, The Penny-Pinching Prepper and How to Prepare for Most Emergencies on a $50 a Month Budget. Her work appears in sites such as the Allstate Blog and Clark.com, as well as print magazines such as Backwoods Survival Guide and Prepper Survival Guide. She has been featured in national publications such as Fox Business and Popular Mechanics. Learn more about Bernie here.