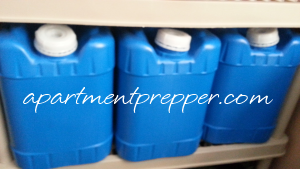 I have a quick but crucial project you can do this weekend.  You don't even need a whole lot of planning.  It could be low cost, or even no cost because you already have what you need lying around the house.
This weekend, build your emergency water supply.  That's right, even if you do nothing else to prepare, do it now and you will be more prepared than 80% of the population.
1.  Gather up all the empty soda and juice bottles around the house.
2.  Clean them thoroughly with soap and water.  Don't leave any soap residue.
3.  Fill them with tap water.
4.  That's it!  Try to have at least one gallon per person per day to last for a week.  But if you don't have that much, do it again next weekend, as soon as you have empty containers.
A few more ideas:
Freeze some of the bottles.
Leave some room at the top for expansion, and place some of your bottles in the freezer.  The ice will help you
Keep your freezer cold longer if you have a power outage
Save electricity, because a fuller freezer is a more efficient freezer
Have extra drinking water when the ice melts.
You can also use this ice keep your cooler cold on road trips or picnics.
Store extra water for pets' needs.
Your pets will need water in an emergency – don't forget to allocate water for them as well.
Improve the taste of tap water
If you don't like the taste of your tap water, there are a couple of things you can do to make it taste better:
Leave the water standing in a lightly (paper towel or cloth) covered pot.  I've tried this myself:  our tap water has a chlorine after taste, but I found that if I left the water standing overnight, it taste much better in the morning.
I like to run tap water through my Berkey water filter as the water from the old pipes is not crystal clear – this instantly improves that taste and takes out any impurities.   Make sure you check your water filter on a regular basis.
A lot of people also add powdered drink mix, or brew iced tea to improve the taste.  A squeeze of lemon, lime or cucumber slices will also improve the taste.
Buy bottled water if you don't want to spend the time.
If you are super busy and don't want to spend the time gathering containers and filling them, then allocate $5-$10 this weekend and buy gallon jugs of water.  You can pick them up at the dollar stores and you'll have 10 gallons instantly.  Make sure you don't buy the flimsy containers, to avoid a water storage failure.
Bottled water is still good well past the expiration date, as long as they are stored properly and away from gas or chemical fumes.
Find good spots for your water storage
Do not store your water containers near items that give off fumes such as gasoline, kerosene, bags of fertilizer etc. – the fume will affect your water.
If you live in a higher floor of an apartment building, be aware of weight limits when storing large amounts of water.
If you live in a hot, humid area, avoid storing your drinking water in warm spaces like the garage, as it will develop mold or moss.  The water may still be useable for washing or cleaning.
Don't forget to rotate your water storage.
Every three months or so, use the water you've stored for drinking, rinsing, washing or for watering your plants and replace with fresh tap water.
A lot of people wait until an emergency is expected, such as a hurricane warning, before filling up the tub and gathering water.  I've been guilty of putting it off too.  Don't wait.  You never know when your water supply could get interrupted – do yourself and your family a favor – boost your water storage this weekend!
© Apartment Prepper 2014
Please click here to vote for me at Top Prepper Websites!