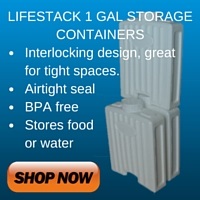 This post is by Bernie Carr, apartmentprepper.com
Water, which is crucial for survival, also seems to be one of the most challenging things to store for small space dwellers.  You need a lot of it (at least one gallon per person per day), but you quickly run out of storage space.
That's why I am excited to welcome our newest sponsor, LifeStack Storage.
LifeStack Storage containers are stack-able one gallon containers that would help small space preppers store water in tight, out of the way spaces.  The containers themselves, pictured below, are lightweight, durable and BPA-free.
I have already done a thorough review of the LifeStack Storage containers for water storage and found them well suited for small space storage.   At $10.49 each, they are already reasonably priced, but LifeStack Storage offers discounts for 5, 10 or 20 container purchase.  The more you buy, the more you save.
Please visit LifeStack Storage today and tell them Apartment Prepper sent you.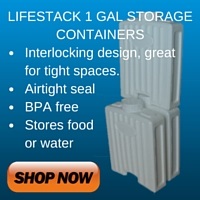 © Apartment Prepper 2016