This post is by Bernie Carr, apartmentprepper.com
I received a review sample of Polar Pure Water Disinfectant.  It is an iodine water disinfectant that kills viruses, living organisms (including Giardia cysts) and bacteria in the water. Polar Pure has been around for years, and has been well regarded by campers, backpackers and preppers.  Unfortunately, it went off the market around 2010 because meth cookers reportedly used the iodine crystals to manufacture methamphetamine.  This resulted in more stringent laws involving iodine crystals.  The manufacturers of Polar Pure redesigned the product's formula, using just slightly more iodine and adding a more accurate temperature gauge.  The process to obtain licensing from the DEA took four years and now they are back in the market.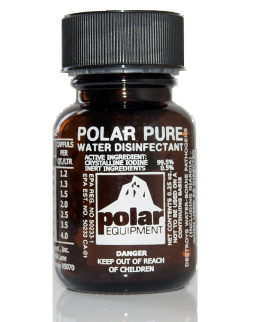 Easy to use
To use, you simply add water (use a bandanna or t-shirt to filter out dirt and sediment from the water) to the bottle.  The solution will be ready to use in one hour.  The bottle has a dosage table showing how much to use to disinfect water.  It only takes one capful to purify one liter of water.
Portability
The Polar Pure comes in a small bottle.  I can see why backpackers and campers would want to have a Polar Pure bottle in their packs.  It is portable and good for many water treatments.
Taste
I tried the treated water, and detected a very slight iodine smell.  It did not really bother me, but if you like you can add a flavored drink mix to your water to improve the taste or smell.
Cost
Polar Pure costs $19.99 per bottle and will effectively treat Up to 2,000 quarts of water.  It is reasonably priced.
I think Polar Pure is a great product to have in your inventory of water purification methods.  However, if you are allergic to iodine or shellfish, you would need to choose a different purification method, as Polar Pure's main ingredient is iodine.  I can see why many hikers and backpackers are glad Polar Pure is back on the market.   After testing it myself, I plan on purchasing a bottle or two, so I can add it to my emergency supplies.
© Apartment Prepper 2015
Disclosure: This is a professional review site that sometimes receives free merchandise from the companies whose products we review and recommend. We are independently owned and the opinions expressed here are our own. Apartmentprepper.com is a participant in the Amazon Services LLC Associates Program, an affiliate advertising program designed to provide a means for sites to earn advertising fees by advertising and linking to Amazon.com