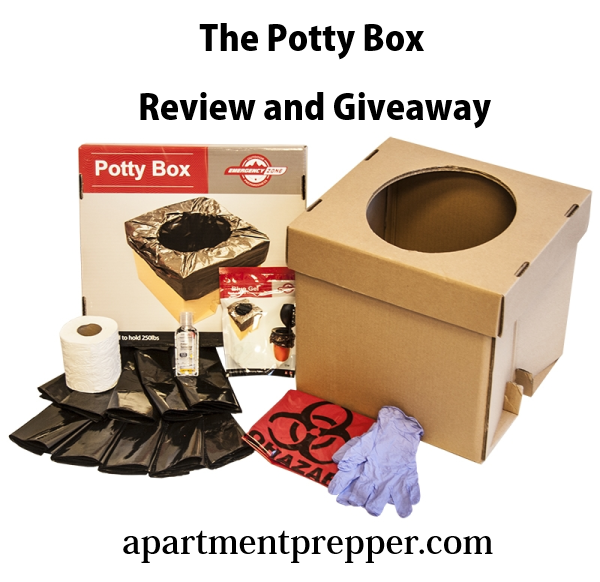 Today we are reviewing the Potty Box – Complete Toilet Set.  I received a review sample from Emergency Zone  I agreed to review it because I wanted to see if it would deliver on the product features as named in the website:
Triple-wall heavy duty design

Light weight & compact storage
Easy to set up and reuseable
Biodegradable
Enough chemicals and liners for 10 uses
Each scoop of Blue Gel will treat up to 1 gallon of liquid waste
Designed to hold up to 250 lbs
Fits under your bed, in your trunk, or under your desk in your office
This is how the box looks like: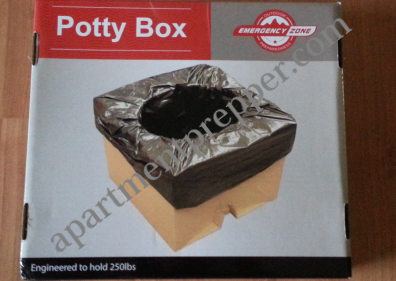 You turn the box over and you can already see how it will be constructed.
Here is a photo of the box with contents.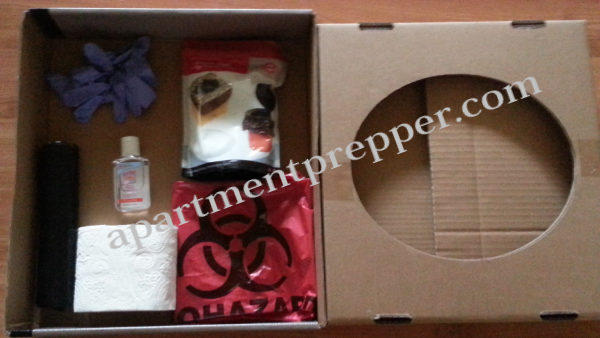 The potty itself comes with:
10 trash bags
1 red bag labeled "biohazard"
small roll of toilet paper
Blue Gel porta potty chemical
small bottle of hand sanitizer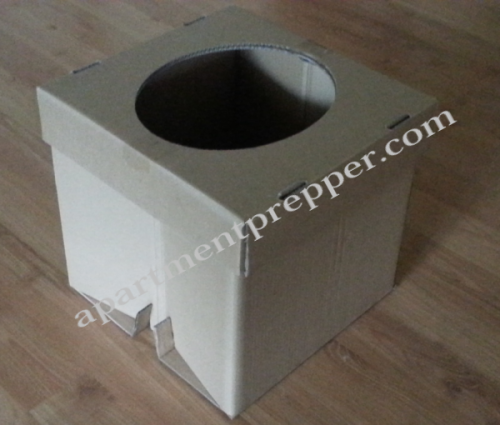 The instructions on how to construct it are right on the side of the box.  The Potty Box is easy to assemble.  All you have to do is unfold the cardboard and insert the cardboard tabs into the grooves.   Then you take a trash bag and fit it over the opening and tuck it under the sides.  It is as simple as putting together one of those filing boxes at work.   I wondered whether this construction would be flimsy like the filing box.
Actually this box is much stronger and sturdier.
I had a few people in the family of varying builds and weights try it out (no one weighed over 200 lbs. in this test, so I cannot vouch for anything above 200).  The box shows it can support up to 250 lbs.
At first, I imagined the cardboard might cave in but actually, it held up pretty well.  Some of the ones who tried it said it was comfortable enough, and some felt it was tight.
The plastic bag cushions your tush somewhat against the edge of the box.
Another comment was "You can't do #1 and #2 at the same time," but that is just something that would have to be worked out individually.
The lid of the box also functions as a toilet lid.
What I liked about it was it was very compact and lightweight.  It is very easy to assemble.  I also has the basic supplies needed for hygiene purposes and it functions as described.
As far as emergency potties for an apartment, it is very space efficient, however there are other choices such as 5 gallon buckets if you wanted a multi-purpose item.  If you are someone who does not want to assemble a potty kit, and want something quick that you can store under the bed or furniture, then the Potty Box would be good to have.  I would advise storing lots more toilet paper than the one roll.  You'd also have to consider how many people would potentially be using it in an emergency and the number of times used – each box has enough supplies for 10 uses.
I think the Potty Box would be ideal for a car survival kit – I'd certainly be grateful to have one if I were stranded somewhere.  It would also make a great gift for a non-prepper who would otherwise not have any hygiene supplies for an emergency.
NOW FOR THE GIVEAWAY…
Emergency Zone is giving away one Potty Box.   Please answer the following question for a chance to win
 What is your biggest concern about hygiene in a disaster?
The winner* will be chosen at a random "Pick a Giveaway Winner" drawing on Friday,  August 29 at 8 pm Central.  *Winner will be notified via email.  Winner must reply to email notification within 48 hours or another winner will be drawn.
THIS GIVEAWAY IS NOW CLOSED.
Vote for Me at Top Prepper Websites