This post is by Bernie Carr, apartmentprepper.com
Everyone knows about using a box of baking soda to avoid odors in the fridge, but many people stop there. But baking soda can do so much more.
I've read hundreds of tips, and not all of them work for me.  I know you can brush your teeth with it, but I am not ready to give up toothpaste.  Unless I am out camping in the woods, I do not brush with baking soda.  On the other hand, I found many other uses that really work.  I now use baking soda in my apartment on a daily basis.
10 ways I save money using baking soda in my apartment:
Scrubbing cleanser   Being a renter, we have to be extra careful we don't damage or scratch any surfaces.  I like using a scrubbing cleanser like Ajax to clean the stainless steel sink, but don't want to scratch it.  I transferred some baking soda into a recycled Parmesan cheese canister and re-labeled it.  Now it's super handy for sprinkling.  Baking soda does a great job scrubbing off dirt and stains but does not scratch surfaces.
Brew a great cup of coffee or tea    Sprinkle a pinch of baking soda on ground coffee before brewing – it cuts the acidity of the coffee.  This also works for iced tea.  Add a pinch of baking soda to a pitcher of iced tea.  It prevents the tea from getting cloudy or bitter.
Fruit and vegetable rinse   No need to spend money on expensive fruit or vegetable washes.  To clean fruits and vegetables, mix two tablespoons of baking soda with water in a deep pan or bowl.  Soak your produce in the bowl for five minutes then scrub with a brush under running water.   Be sure to rinse well, to avoid any baking soda taste.  I've seen some sites recommend placing in a spray bottle but that has not worked for me.  The spray bottle clogs up with a baking soda mixture.
Carpet cleaner  To clean up spills on a carpet, soak up the spill with towels, then clean up with water.  Sprinkle baking soda on the spot, and leave it alone for an hour or two.  Vacuum up the baking soda.  For an overall carpet fresher, sprinkle on the carpet and let stand for 15 minutes.  Vacuum up the baking soda and the carpet will smell clean.
Face and body scrub  Mix a box of baking soda with 20 drops of such as lavender or eucalyptus.  Next time you shower, use as an all over scrub (avoid eyes and other sensitive areas)
Fish tank cleaner  For my monthly fish tank cleaning, I scoop the fish (and snails if you have them) and some of the water into a separate container.  I remove rocks and other decorations.  When the tank is empty, I scrub the entire surface with baking soda and rinse well several times.  I also scrub large rocks and other decorative items with baking soda.  It removes dirt and moss.  I make sure I rinse everything well.  So far I have not lost any fish.
Hair build up remover  Instead of buying a pricey shampoo designed to remove a build-up of hair products on your hair, why not try baking soda?  For just a few pennies, you'll remove product build-up and get a squeaky clean shine.  Just mix a handful of baking soda with enough water (about one part baking soda to three parts water) to make a paste.  Apply to your hair and scalp and rinse well.  For best results, rinse with apple cider vinegar and water (one part apple cider vinegar to three parts water), then rinse again with plain water.
Avoid cat litter odor   A smelly cat litter box can stink up a small apartment quickly.  With each change of cat litter, I sprinkle baking soda to the bottom of the box before adding the cat litter.
Make a fluffy omelet  You don't need a special omelet pan.  Just beat one egg until it's frothy, add 1/8 teaspoon baking soda, salt, and pepper to taste.   Beat the mixture once more and pour into your warm skillet to cook.
Freshen up your sneakers    Sprinkle baking soda inside musty sneakers.  Add a couple of drops of mint essential oil and leave overnight.  Before wearing, dust out the baking soda over a trash bin.  Your shoes will smell fresh.
Clean silver jewelry   I recently cleaned a silver chain necklace that had tarnished by using baking soda with aluminum foil: Line a container with aluminum foil. I placed my chain on the foil, then poured hot water on it. It immediately started bubbling up. After about five minutes, I scrubbed the chain with a toothbrush and rinsed it. The chain was like new. (Results may vary depending on the composition of the chain. This works on silver or sterling silver. Test on a small area first.)
Natural deodorant  Mix a tablespoon of baking soda with about a teaspoon of water to make a paste. Rub the paste in the underarms or feet.
Because I use it so much I make sure I am always well stocked.  I have also included a few boxes in my emergency supplies.  I am sure there are lots of other uses I did not include in my list, but these are my favorite.  If you have other favorite uses for baking soda, please share in the comments below.
_____________________________________________________________________________________________
About the author:
Bernie Carr is the founder of Apartment Prepper. She has written several books including the best-selling Prepper's Pocket Guide, Jake and Miller's Big Adventure, The Penny-Pinching Prepper and How to Prepare for Most Emergencies on a $50 a Month Budget. Bernie's latest e-book, FRUGAL DIY has just been released on Amazon. Her work appears in sites such as the Allstate Blog and Clark.com, as well as print magazines such as Backwoods Survival Guide and Prepper Survival Guide. She has been featured in national publications such as Fox Business and Popular Mechanics. Learn more about Bernie here.
For more tips on prepping on small budget, read my book: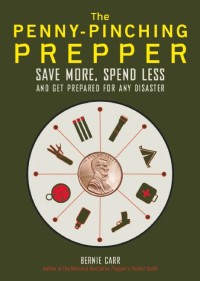 Image by Azzaryiatul Amar from Pixabay