Apt Prepper Daughter was driving around with a friend, on their way to the beach.  It was a perfect spring day, with a nice breeze and low humidity so they drove with their windows down.
While stopped at a light, a bee suddenly flew into the car and stung Apt Prepper Daughter in the upper arm just as the light changed.  The sting didn't hurt that much at first, but she pulled the car over and checked the site.  There was no stinger but she noticed the area was red and was rapidly swelling up like a golf ball.  She restarted the car and in a few minutes started to feel out of breath.  She was starting to feel difficulty breathing and her throat felt tight.  Her friend was talking to his mom on the cell phone at the time and they told her what happened.  She told them the rapid swelling shows Apt Prepper Daughter is allergic to bee stings; if they were anywhere near a store they need to immediately pick up some Benadryl and take it as soon as possible.  If they were not close then they'd need to call 911.  Fortunately, they were right by a Randall's grocery and they got the Benadryl in time.  She felt immediate relief as soon as she took it.
This could have been a dangerous situation had they not been near a store.  I was thankful she was fine by the time she called me to tell me what happened.  But this got me to thinking what if there's an emergency and you can't just go to the market to buy Benadryl?   She had a few sensitivities as a child, but we never knew she was allergic to bee stings.  Apt Prepper Son got stung by a wasp at the apartment trash bin, and I gave him an antihistamine as a precaution, so we did not see any symptoms other than a few hives.
I told Apt Prepper Daughter to start keeping antihistamines in her purse for emergencies.  She already has a couple of pain relievers, Band-aids and of course water and food in her car.
It's also a good idea to learn the difference between a mild reaction to a sting, and symptoms of insect sting allergy, also known as anaphylactic reaction:
What is a mild reaction to a sting?
Itching
Some redness
Mild swelling at the sting area
Slight pain in the area
Warming sensation
Small pimple from the bite
Symptoms of severe insect sting allergy:
Rapid swelling in the mouth, eyes, face or throat
Difficulty breathing
Hives and redness spreading beyond the sting area
Difficulty swallowing
Dizziness or nausea
Rapid pulse
Loss of consciousness
With insects out in full force in the spring and summer, you just never know when such an emergency can happen.  If you are severely allergic, check with your doctor on what you should keep with you for such an emergency.  Even if you are not allergic, someone in your family or around you might be. Don't leave out antihistamines from your mini first aid kit.
Get the real deal. Whether bugging out or sheltering in place, you can never have enough clean water for survival:
For your water purifier needs, please visit
: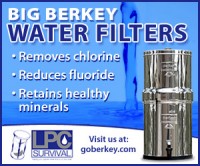 For beginning preppers