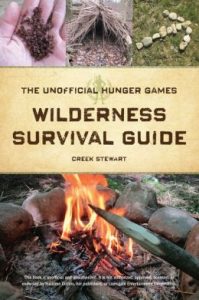 I received a review copy of Creek Stewart's latest book, The Unofficial Hunger Games Wilderness Survival Guide.   I had read his first book, Build the Perfect Bug Out Bag and reviewed it previously.   I had great expectations for the second book, and I was pleased to read it.
It is well known that The Hunger Games books and movie had a lot of survival type situations and this book relates how one might actually survive when faced with such difficult circumstances.
First, the Big Question
We might as well get the big question out of the way:  Do you need to read The Hunger Games series of books or see the movie before you can appreciate this one?   I would say it helps, but it is not absolutely necessary.  I admit I have not seen the movie, but I did read the books a couple of years ago.   There is a tie-in, as the topics relate to some of the survival issues covered in the book, but if you have not read or seen the movie you will still learn a lot of survival lessons.
What I Thought about The Unofficial Hunger Games Wilderness Survival Guide
I thought the book was very informative and covered all the necessities for survival.
Some of the topics include:
Finding water and making it safe to drink
Identifying edible plants
Building snares
Building a shelter to protect against heat, cold, wind and rain
Fire-starting
Navigation
First aid
Travel tips for rescue and evasion
Making tools to increase the odds of survival such as a bow, knife from a sharp rock
and a lot more.
I enjoyed the sections that I personally feel deficient in, such as identifying plants that are safe to eat, finding your way using things in nature, natural camouflage, good fire-starting materials etc.
I liked reading the "Survival Quick Tips" that were sprinkled throughout the book, giving helpful advice that is related to the section.  The book also includes a lot of photos and illustrations, making it easy for the reader to follow along.
The author gives specific advice on where to look when you need additional information about a subject such as the best guide for foraging plants, references and actual brands of gear that are known to work.   As anyone who has researched emergency gear knows, finding out about what works and what doesn't takes time and money:  having concrete advice like this handy eliminates a lot of guesswork and wasted time.
Fortunately for us, we are not faced with life or death survival situations such as those experienced by the characters in The Hunger Games, but you never know when you will be faced with such a predicament.  The time to learn these skills is now, not when we're already deep in the middle of a crisis.  As author Creek Stewart says, "Remember, it's not IF but WHEN."  I recommend The Unofficial Hunger Games Wilderness Survival Guide to anyone who wants to learn survival skills in an entertaining but illuminating format.
Now for the Giveaway
Two lucky readers will be chosen to win this giveaway of the following:
Autographed copy of

The Unofficial Hunger Games Wilderness Survival Guide

Willow Haven Outdoor Logo Sling Pack,
A 100% cotton Willow Haven Outdoor Survival Bandanna
A Multi-Fuctional Survival Tool with built in lanyard, compass, ferro rod, whistle and water-proof container for storing matches other survival kit items.
To win, please comment below regarding any of the following:
What survival situation in The Hunger Games you were most curious about
What you hope to learn from this book
Entries will be accepted until Sunday, May 26th at 8 pm Central.  We will contact the winners via email-please respond within 48 hours or another winner will be chosen.  Good luck!
Note:  This giveaway is now closed.