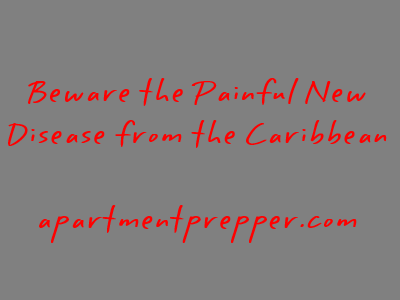 This post is by Bernie Carr, apartmentprepper.com
Have you heard of the new "chikungunya" virus that comes from the Caribbean?  Cases have now been found in Florida and from what I've heard, the disease is quite debilitating.
What is it?
Chikungunya literally means "contorted with pain" because the virus causes arthritis like joint pain.  Other symptoms include headache, fever and rash.
The good news:
It is not fatal.
Also, once you catch it, you won't catch it again.
The bad news
The joint pains could last for years.
There is no cure, only relief for the symptoms
How does it spread?
Thousands of people in the Caribbean have already caught it due to getting bitten by infected mosquitoes.  Although the mosquitoes in the U.S. are not known to carry it, a single infected person can trigger an outbreak.  The mosquitoes that can carry it are present in the eastern and southern parts of the U.S.
Three cases have already been found in Florida – all were recent travelers to the Caribbean.
For more info, check out the following links:
Mosquito-borne chikungunya virus spreads in the Caribbean
Florida Officials Warn About Painful New Virus
For tips on avoiding mosquitoes, please see my article below:
Protect Yourself from this Disease Carrying Creature
Even if you don't travel to the Caribbean, or don't live in one of the affected areas, it would still be wise to avoid mosquitoes since they carry a lot of other nasty diseases.
© Apartment Prepper 2014