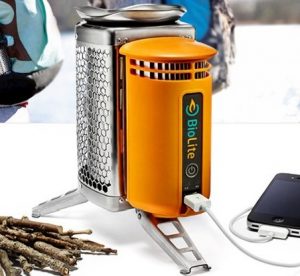 This post is by Bernie Carr, apartmentprepper.com
I received a sample of the BioLite Stove for testing and review.  The BioLite Stove is a portable stove that allows you to cook with wood, and charge small electronic gadgets at the same time.  As many long time readers know, I am always on the lookout for good portable chargers for emergencies as well as a good backpacking stove.
This is what came in the box: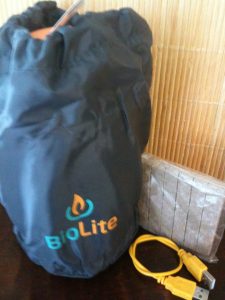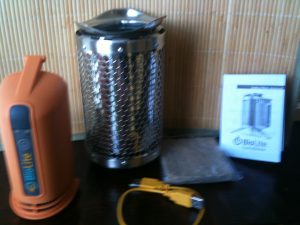 The box contained the stove within a pouch, USB cable and the firestarter sticks.  Inside the pouch was the actual stove, the charging unit (battery) and instructions.
The instructions indicated you have to condition the battery before first using the stove by plugging it into your computer's USB port or wall plug.  In my case, I plugged it into the wall charger for six hours per the instructions.  The light on the unit flashes at first then glows a steady orange while charging.   It is recommended you charge it every six months if unused.
The next step is to attach the battery to the stove and it is ready to use.

I added a firestarter stick and some tinder (small twigs, wood pieces, acorns etc) to the stove and lit the firestarter with a match.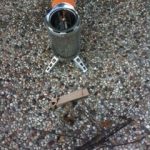 The fire started up fairly quickly.  You turn on the fan on the battery charger, first low, then high.  It is the same effect as blowing on the tinder to get it to catch fire.  In no time at all, the fire was going nicely.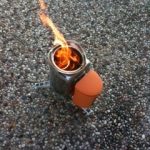 To keep the fire going I continued to add sticks, twigs, dried leaves and small acorns.  There was small amount of smoke generated because some of the twigs were not completely dried out.  I placed a small pot with an egg on top of the stove.  The water started boiling fully after about 10-15 minutes.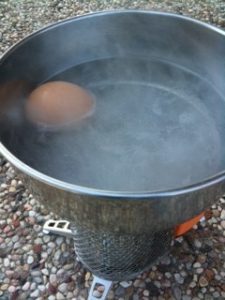 You can start charging  on the battery once the light glows green.  You will need a good amount of twigs to keep the fire going.  The website indicated it should be ready in 10-15 minutes before you can charge, but it took mine a bit longer.   However it did work as described.  You can charge small devices such as cell or smart phones, GPS units, etc.  You just plug the phone via the USB cable into the unit and it will charge.
The BioLite Stove has a very efficient design, is lightweight, weighing only about two pounds.  Being a dual purpose item, it saves space as well.  It is good to have in your emergency kit in case of a power outage, and would make a good backpacking stove.  The instructions are easy to follow and the website has a FAQ section that addresses most concerns.   The BioLite Stove worked very well and I highly recommend it.
For more information, visit the BioLite website http://www.biolitestove.com/
© Apartment Prepper 2012
ReadyMade Resources is a trusted source for your preparedness supplies: