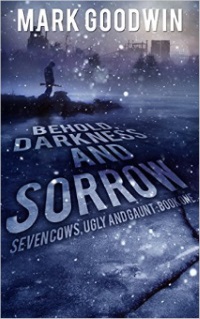 This post is by Bernie Carr, apartmentprepper.com
I've been listening to the audio version of Mark Goodwin's latest book, Behold, Darkness and Sorrow Seven Cows Ugly and Gaunt.
What's the book about?  Hard-working college student Daniel begins to have prophetic dreams.  The dreams are deeply disturbing.  One of the dreams tells of an EMP threat that takes out the electric grid as well as computers.  Such an event would send the country into a horrific grid down disaster.  If he wants to survive, he must get his preparations in order, as soon as possible.
Thoughts about the book  Along with the main character, Alisa, Daniel's girlfriend and Steven, his best friend are very likable and down to earth.  You can easily imagine them as college kids working at the corner restaurant.  I normally expect a slow build as a story begins, but with this book, I was pulled into the tale from the very beginning.  Mark Goodwin skillfully weaves everyday events with prophecy, a good story line with a good selection of Bible verses.  Throughout the book, you'll also pick up some great preparedness tips, all the while being entertained by the story.
The characters are easy to relate to, and the events are fast paced but plausible.  It is a wholesome and exciting story; I would not have any issues with 12 or 13 year old kids reading it.   I like the audio version but I am sure the print or electronic version are just as good.  Go get your copy!
Now for the giveaway…  One lucky winner will be chosen via Rafflecopter to win a copy of Behold Darkness and Sorrow.  We've made it as easy as possible to enter, with lots of opportunities to win!
© Apartment Prepper 2016