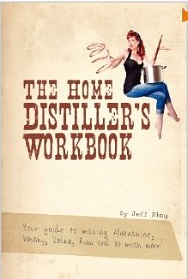 This post is by Bernie Carr, apartmentprepper.com
I received a review copy of the Home Distiller's Workbook by Jeff King.  Before we jump into the review, please note, as clearly indicated in the back cover of the book:  Warning:  It is illegal to distill alcohol in the United States without first obtaining the proper licenses."
If you have ever wondered how the mountain men back in the day made moonshine from corn, this book tells you how in great detail.
It is a small book, which I think is a "plus" as it does not contain a lot of fluff and excess details.  It tells how the process works:  fermenting, distilling and aging.  It covers the ingredients needed, equipment, concepts and finally, recipes.
You can tell the author is quite knowledgeable and passionate about the subject.  He provides a lot of hands on tips.
The book is very thorough and informative.  Although distilling was not a subject I personally considered,  I found it to be an interesting read.  I enjoyed learning about the science behind it, how the yeast and other ingredients interact with each other; the diagrams were helpful as well.
Because it is illegal, and also requires a lot of equipment, home distilling is not on the "to do" list, but knowledge about the process is a good thing.  If the laws were to change, becoming skilled in distillation can be valuable.
If you are interested in learning about home distilling for educational and entertainment purposes of course, this is a good book to have.
© Apartment Prepper 2013