Written by Bernie Carr
With food and gasoline prices rising almost daily, I have had readers commenting that they appreciate our money saving ideas. With that in mind, I will start sharing more frugal living ideas with the occasional Money Mondays post.
Back in the early days of the pandemic, I used Instacart for a few months. At the time I was mainly concerned about not being around crowds so my focus was not on saving money. My grocery bill was actually a lot higher as I was not using coupons or specials. This past week, I tried using a local store's grocery pickup service to see if I could save some money.
I was perusing the weekly grocery flier that comes in the mail when I noticed the store was offering $45 off grocery pickup for three visits. I checked online for offer details: the online coupon was good for three visits with a savings of $15 per visit. The minimum order was for $50 which was fine with me. I decided to give it a try.
How does grocery pickup work?
You'll need to create an online account with the grocery store, using an email address and a password. You'll get an app on your phone as well. If you already have a member savings card, then you just need to log in.
I like to check the digital coupons and weekly specials before I start shopping. Once I find digital coupons that I know I will be needing, I clip them and they are saved in my account. Below is a sample screenshot of digital coupons.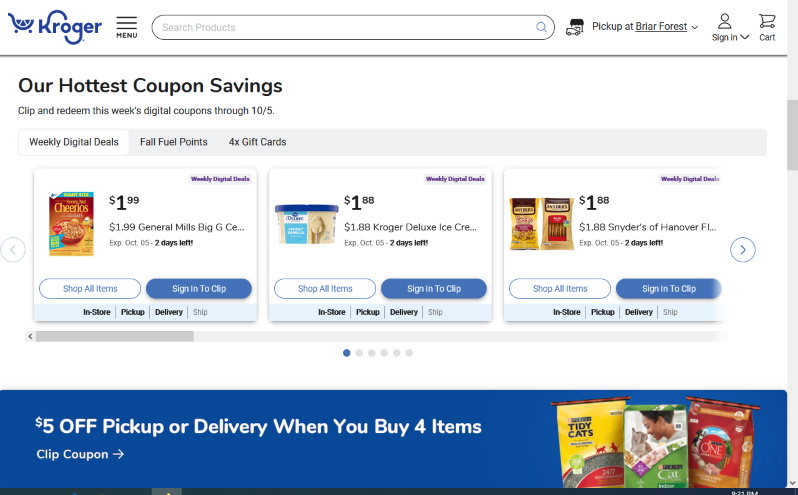 Before I start shopping for items, I make a menu and grocery list of items I'll be needing for the week.
Now I can sit down and shop. First, I search for the type of item: let's say I need sourdough bread. I type in sourdough bread in the search bar. Sometimes you may get several pages. I narrow it down by clicking "Pickup" because some items are not available for that service. You can narrow it down further by specifying the brand. Sale items have a yellow highlight or may say "coupon" if you had clipped an online coupon.
I keep finding the items one by one until I have found them all. I then check the cart and checkout. You'll be given a choice on available pickup times. You're also given an option on whether you'll accept substitutions in case your item is unavailable.
I then pay with a card and check my email to make sure I got an acknowledgement of the order.
A couple of hours after I ordered, I received a text that certain items were unavailable. I clicked on the link which sent me to substitutions offered. You get the option to accept the substitute or not. If you don't accept it, the charge gets deducted from your bill. If you accept then they proceed with the substitution.
You can track the status of your order online. The store also sends text notifications. Within an hours of the pickup time, I get a text asking me to notify them once I am on my way. When I click on the link it goes into the app*
*Tip: To get into your account, you'll need your email address and password. The first time you use the service, make a written note of your password so you can enter it (You can also try memorizing it). Then allow your phone to store it if you don't wish to keep entering it manually.
When I arrived at the store, I parked at a designated area for pickups. Each pickup spot has a number. Then I got into the app to click "I am here" The app will ask what the number of your parking spot. Type that in and in a few minutes, the grocery clerk came out with my groceries.
The first experience went very well. I got a couple of substitutes which was fine. I saved money since I got the $15 off from the coupon, as well as other online coupons.
The second order
The following week, I made another order. Same process, I clipped the coupons that I needed and proceeded to shop from my list.
This time, I had one item that was unavailable and no substitution was offered.
I got to the store and picked up my groceries. My bill was lower than expected, but I thought it was due to the item that was unavailable.
As I was putting away the items, I noticed the fruit was not the best quality, with some bruising. I also noticed several items were missing from my order. One pasta item was not the correct type that I ordered, and I was never informed of the substitute. When I went back to check online, the missing items were not in the receipt, but there is also no record of the order. I was certain I ordered them, as was checking off my list as I added them to my cart. I also had the coupons in my account but they were unused. That's because once the clerk fulfills the order, if the item was not picked up, it does not appear on the receipt.
I still needed those ingredients so I ended up going back to the store the next day to exchange the pasta and shop for the missing items.
I'd say my second order did not go as well as the first.
In conclusion
In answer to the original question, Can you save money with grocery pickup or delivery, I would say yes, you can get some savings:
You avoid impulse buying since you are buying online and avoid all the sights and smells that are meant to entice you to buy more.
You can clip coupons online and apply them to your purchase right away.
You know how much you are spending as you add items to your online cart.
The pitfalls
You have no control over the quality of produce or meats that will be chosen by your shopper. Some are very careful and choose the best quality items, but others may not be as discerning. For example, if you shopped in person, you may choose cuts of meat that have less fat, but if you order for pickup or delivery, you have no control over that.
You may not remember what you ordered because only your purchases get counted on the receipt.
The shopper may not pickup everything on your list, and you'll end up having to go to the store anyway.
During these times when it's still best to avoid crowds, pickup or delivery are good options for grocery shopping. You only need to deal with one person when you pick up your order, instead of walking down the aisles and encountering a lot of people. With the incentives stores are giving to order online or delivery, you will save some money. Overall, I think ordering pickup and delivery is worthwhile and I would try it again.
Have you tried grocery pickup or delivery? Did you save money? Please share in the comments!
---
We are an affiliate of Amazon.com, which means we received a small commission if you click through one of our Amazon links when you shop, at totally no cost to you. This helps keep the lights on at the blog. Thanks!
About the author:
Bernie Carr is the founder of Apartment Prepper. She has written several books including the best-selling Prepper's Pocket Guide, Jake and Miller's Big Adventure, The Penny-Pinching Prepper and How to Prepare for Most Emergencies on a $50 a Month Budget. Bernie's latest e-book, FRUGAL DIY has just been released on Amazon. Her work appears in sites such as the Allstate Blog and Clark.com, as well as print magazines such as Backwoods Survival Guide and Prepper Survival Guide. She has been featured in national publications such as Fox Business and Popular Mechanics. Learn more about Bernie here.