This post is by Bernie Carr, apartmentprepper.com
Winter has officially started and so has the cold and flu season.  It usually peaks around January and February.   Are you ready?
Prevention
Ideally, we can all avoid catching the cold or flu.  A few precautions may help:
Wash your hands frequently.
Avoid touching your eyes, nose, mouth or face.
Get adequate rest and exercise
Eat a nutritious diet
Disinfect surfaces often – doorknobs, light switches, keyboard, faucets
Avoid stress
Get a flu shot if your doctor recommends it
Avoid crowds
Is it the Cold or the Flu?
We all know the flu is more serious and miserable than a cold, but sometimes their symptoms appear similar.  There is a way to tell the difference – see this article.
Stock up on sick day supplies
Avoid having to take a trip to the store when you're already feeling miserable by preparing ahead of time.  Here are a few supplies to have on hand to minimize and hopefully shorten a bout with a cold or flu:
Hand sanitizer
Boxes of tissues
Lysol or anti-bacterial spray
Pain relievers such as Tylenol, Advil, Aleve, sore throat lozenges; symptom reliever such as Nyquil, Dayquil or cough medicines
Nose spray
Thermometer
Chicken soup (canned or refrigerated) and plain crackers
Soothing drinks such as tea, orange juice, apple cider
Honey
Lemons
 Shows you can binge watch while resting
Seek medical care
In spite of the best efforts, sometimes you just get sick anyway, and may need to get medical care.  A lot of people put this off.  Don't hesitate to see a doctor if you continue to feel worse or are just not improving.  You may be able to see a doctor online, or at an urgent care office.  You might be able to get a prescription for an antiviral flu drug that may shorten your symptoms.  Stay home and rest. You will avoid spreading it to others and the rest will hasten your recovery.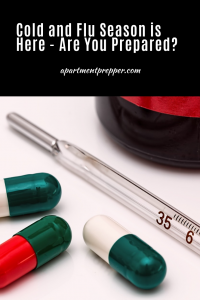 About the author:
Bernie Carr is the founder of Apartment Prepper. She has written several books including the best-selling Prepper's Pocket Guide, Jake and Miller's Big Adventure, The Penny-Pinching Prepper and How to Prepare for Most Emergencies on a $50 a Month Budget. Her work appears in sites such as the Allstate Blog and Clark.com, as well as print magazines such as Backwoods Survival Guide and Prepper Survival Guide. She has been featured in national publications such as Fox Business and Popular Mechanics. Learn more about Bernie here.



Aware traveler