This post is by Bernie Carr, apartmentprepper.com
Although winter 2017 officially started on Dec. 21st, thousands of people have been experiencing the bitter cold for several weeks.  I thought I'd post a season appropriate project anyone can do.
Some days I have really cold hands and feet and cannot seem to get warm no matter what I do.   So I decided to try making my own foot warmer.
I originally saw this project in Surviving and Thriving a while back but always wanted to try it myself.
DIY Hand and Foot Warmer
You will need:
A pair or socks (I used an old pair or tube socks)
Uncooked rice (a pound or rice or four cups of rice should do)*
*You can also use uncooked barley, flax, wheat or oatmeal instead of rice.
Microwave
Directions:
Pour about two cups of rice in each sock, filling it about halfway.
Make a knot on the open end to seal the rice inside the sock.
Microwave for two to two and a half minutes.  (Heat will vary according to your microwave-exercise caution when you take them out.)
That's it!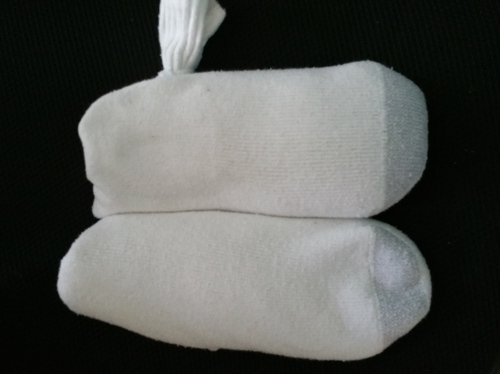 Result
When I warmed up the rice in the microwave the place smelled like rice, which I don't mind.  I used them on both feet and they worked!
If you want them to look nicer, use colorful socks or fabric bags.  Sew the ends instead of just making a knot.  You can also add dried lavender or rose petals to the rice for a nice scent.
© Apartment Prepper 2016
For more tips on prepping on small budget, read my latest book: