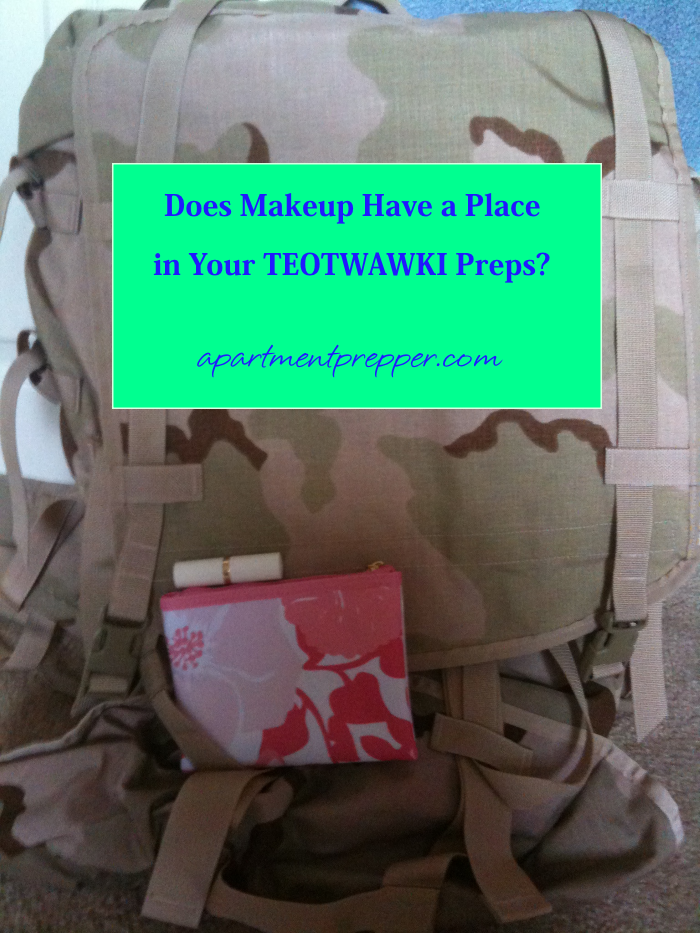 This post is by Bernie Carr, apartmentprepper.com
As I got ready for work, putting on lipstick, I got to thinking whether makeup has a place in my preps.  I have some lip balm and lotion in the go-bag, but not much else in terms of adornment.   As it is, my makeup style is on the minimalist side, but I do have some basic items that I keep around:  lipstick, face powder and occasionally, pencil eye liner.  Ladies, you all know there are certain "MUST HAVES."   Even small tools such as tweezers, razor should be considered, much like the old "What would you bring if you were getting stranded in a desert island?" question.  As for the guys, the women in your life will have their own ideas as well, and let's face it, this is not something you'll want to argue about when faced with a bug out situation.
On the other hand, there are so many more essential survival supplies, and with very limited room,  I initially considered doing without cosmetics.
Let's consider for a moment, a large scale, total disaster type situation:
You don't need makeup when you are bugging out
One of the first articles I read when I started prepping was on SurvivalBlog, and it talked about how in a widespread, total disaster, grid down situation, you will have to flee looking as inconspicuous as possible.  If you have long hair, you would have to cut it and wear drab and baggy clothes to hide your figure, thus avoiding unwanted attention.  I will admit the article made sense and left a strong impression on me.  At that time, I thought there is no point in keeping any makeup around, unless you want to get yourself killed or worse.
Things will settle down eventually
After reading a lot of survival stories, both fiction and non fiction, I started thinking about the aftermath.  You may be traveling to find a safe place for a while, but eventually, you will reach your destination.  After the period of upheaval, hopefully things will return to some kind of normalcy.  You may find a town to settle in.  At a certain point, women will feel the need to adorn themselves.  There will be social situations such as weddings and other events. Throughout history, during good times and bad, women have found materials to enhance their features:  berries, roots, ground up gems or even ground up bugs for dyes.
Having a small stash of makeup will have its benefits such as:
After living through a high stress event, feeling attractive, even for a short while may be a great morale booster.
If things return to a "new normal" these products may still be rare or unavailable for a long time, and you will be glad you have a small supply
Even if you don't wear makeup, they will make good barter items.
What would Sarah Connor do?
I always admired the character of Sarah Connor, played by Linda Hamilton in the movie Terminator.  She was strong, resourceful and knew her way around weapons.  Even as she faced the end of her world as she knew it, Sarah Connor had a hint of color on her cheeks and a shine on her smile.  So I think I will at least keep some extra tubes of lipstick.  In addition to a bright smile, lipstick can also be used to add color to your cheeks, making it multipurpose.  And if all else fails, you can use it as fire starter.