Written by Aden Tate
The most useful tools are the ones that are available. It does no good if you own a hammer but it's miles away when you need it. From a survival perspective, this is why the items that you choose to include in your EDC (every day carry) are so important. Your bug out bag, get home bag, or work kit may not be readily available. What if all you have to survive is what is on your person? You need to expect the unexpected.
Here is what my EDC looks like. Keep in mind I can easily fit all of these items in my jacket, or in my pockets while wearing jeans.
EDC pistol
I personally like a M&P Shield 9mm. It's super compact, doesn't drag my pants down, bullets are readily available and affordable, and the price of the gun is not bad either. (Editor's note: If you are interested in adding a firearm to your EDC, check your state's laws regarding carrying a concealed firearm.)
Extra magazine for EDC pistol
I started carrying extra magazines filled with hollow points after reading James Rawles' Patriots series. If you do end up having to use your weapon, odds are you're going to need more than one mag if you end up in a gunfight.
Fixed blade knife
I like a Cold Steel Urban Pal. It's a small push knife that is incredibly light and concealable.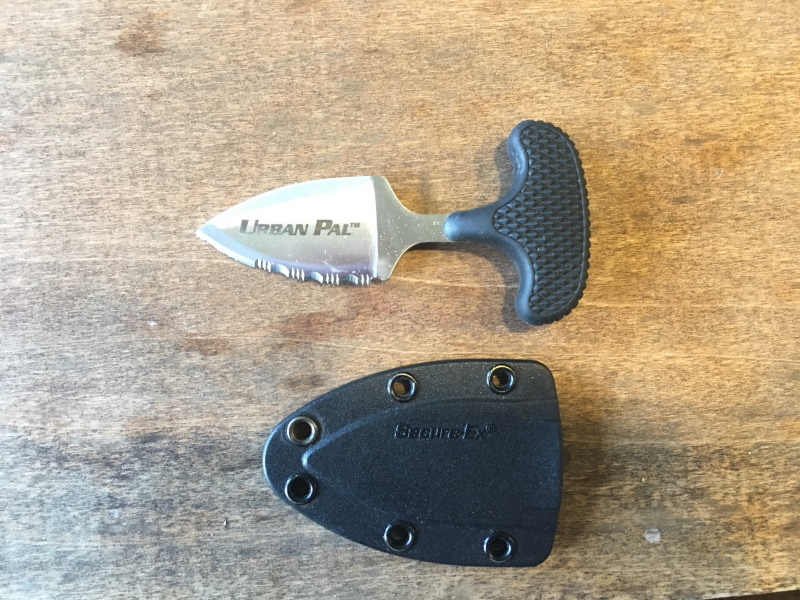 Folding pocket knife
My great grandpa's pocket knife is a favorite of mine. I inevitably end up needing a knife multiple times a day, and it doesn't raise as many eyebrows when I use a folder rather than a fixed blade. And yes, I do keep two knives with me.
Wallet        
Cash is of prime importance here. If you don't already, you need to start carrying cash. Why? Anonymity, power outages, and for person to person buys. It's hard to track cash, a power outage can easily make a store unable to process credit card payments, and how many times have I spotted great deals at yard sales and flea markets I would have had to pass up on if I didn't have cash?
Hat
For the sake of keeping the sun out of my eyes, and for making working in the rain more tolerable, I like to always have a hat.
Pen and Small notebook
You need a pen and a small notebook so you have a way to write and an easy place to store necessary phone numbers, addresses, and the like.
Pill Bottle Survival Kit
This small container includes small tools I need from time to time such as strike anywhere matches, safety pins, fishing gear, flint, pills, batteries, change, etc.
Phone
I know some may disagree with me on this one because of (valid) tracking concerns, but I haven't reached the point where I can work without a phone yet. There's a number of useful survival apps available out there, and the addition of GPS, messaging ability, a compass, and a flashlight make a phone a very useful addition to your EDC.
Paracord shoelaces
Paracord has an almost infinite number of uses. The more you can carry discreetly, the better.
Once again, this is by no means a comprehensive list of what YOU should carry. The proper EDC kit will vary from person to person. If you live in an urban area, you might want to tailor your list items to carry near protests. Use this template though to glean ideas that may help you to make yourself better prepared to survive a disaster or dangerous situation.
---
About the Author:
Aden Tate is the author of The Faithful Prepper.
---
We are an affiliate of Amazon.com, which means we received a small commission if you click through one of our Amazon links when you shop, at totally no cost to you. This helps keep the lights on at the blog. Thanks!