This post is by Bernie Carr, apartmentprepper.com
One popular topic around the preparedness community is the "EDC" or every day carry.  These are items we keep with us wherever we go.   I have a number of items I consider part of my EDC, but today, I'd like to talk about knives.  I have two favorites that I keep with me:
My Swiss Army knife
Gerber Knife
Why do I have two knives?
It might sound a little redundant, but that is a good thing.   A popular saying in survival is "Two is one, one is none."  This is to ensure that if something breaks you have another one to replace it.  At the same time, my two knives are good for different things.
Swiss Army Knife
I keep my Swiss Army knife in my key chain, so I am never without it.  Technically, it is a multi-tool, but is also considered a folding pocket knife.  The Swiss Army knife was originally created in Ibach, Switzerland.   American soldiers started calling it "Swiss Army knife" after WWII since they had trouble pronouncing its German name, "Offiziersmesser."  I've been carrying this one around for about 10 years and it still works just as well as it did when I bought it.
My pocket knife is good for small, easy tasks that just needs a little blade.  I use it daily, to open mail or packages, cut string or thread etc.  But the pocket knife is too small for other tasks, and that is why I also have my Gerber knife.
Gerber Knife
I keep my Gerber knife in my car so I always have it around.  When I was just getting started with preparedness, I purchased a much larger knife.  It was a great knife but turned out to be too big for my hands and too heavy to work with.   Just like my first backpack, I realized I made a mistake with my first choice.  I would advise anyone shopping for a new knife to try various brands, see and handle them before making a choice.
At first I was not sure I was going to buy this knife.  It was popularly advertised, with the Bear Grylls logo so I was immediately skeptical about the hype.  But after researching it and talking to other people who owned one, I actually liked the features.  It turned out to have everything I need, in the correct size for my hand and grip.
This knife has come in handy for every day use.  If I had to cut through thick material like a seat belt or heavy rope that would be too touch for the pocket knife, I know the Gerber knife will do the job.  I also bring it with me during hiking, camping or backpacking.  The knife comes with a whistle as well as a ferro rod.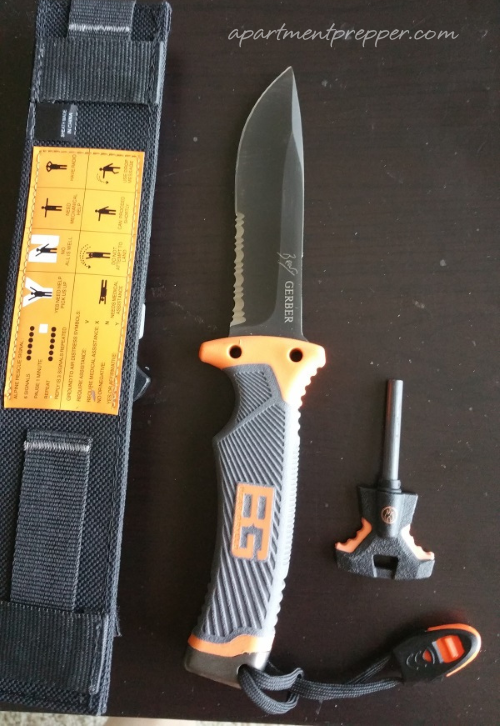 I sharpen both knives regularly to keep them ready for use at all times.
Before you start carrying a knife, be aware of the knife laws in your state or locality.  See Can You Get Arrested for Carrying a Knife?
© Apartment Prepper 2017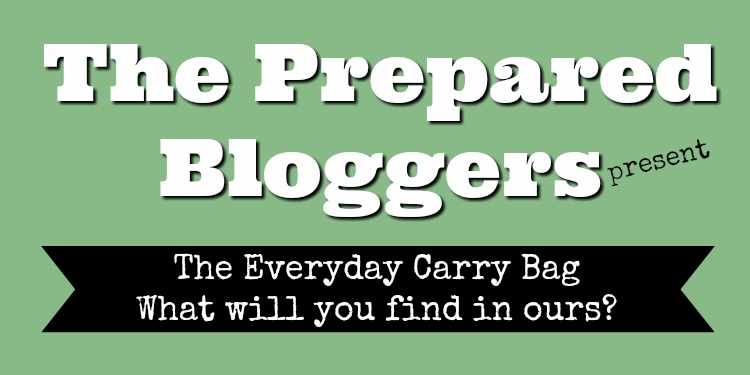 The Prepared Bloggers are at it again!
Everyday carry, or EDC for short, refers to items that are carried on a regular basis to help you deal with the normal everyday needs of modern western society and possible emergency situations.
Some of the most common EDC items are knives, flashlights, multitools, wallets, smartphones, notebooks, and pens. Because people are different, the type and quantity of items will vary widely. If you have far to travel for work or have young children, your EDC could be huge!
But, even if you're just setting out for a walk around the neighborhood, taking your essential items with you in a pair of cargo pants with large pockets, may be all you need to be prepared.
Follow the links to see what a few of the Prepared Bloggers always carry in their EDC. Would you feel safer with these items close at hand?
Shelle at PreparednessMama always carries cash, find out why and how much she recommends.
John at 1776 Patriot USA tell us the 5 reasons he thinks his pistol is the essential item to have.
LeAnn at Homestead Dreamer won't be caught without her handy water filter.
Justin at Sheep Dog Man has suggestions for the best flashlights to carry every day.
Nettie at Preppers Survive has a cool way to carry duct tape that you can duplicate.
Todd at Ed That Matters tells us about the one item you'll always go back for…your cell phone
Erica at Living Life in Rural Iowa knows how important her whistle can be when you want to be safe.
Todd at Survival Sherpa always carries 3 essential fire starters wherever he goes.
Angela at Food Storage and Survival loves her Mini MultiTool, it's gotten her out of a few scrapes!
(adsbygoogle = window.adsbygoogle || []).push({
google_ad_client: "ca-pub-1820693816492582",
enable_page_level_ads: true
});