By Mike Podlesny
Do not let the lack of space keep you from growing some great tasting fresh vegetables, fruits and herbs at home. Regardless of whether you have a balcony at your apartment or a small backyard in the city, it is possible to reap a bountiful harvest every gardening season.
CHOOSE WISELY
The first thing to consider when growing fruits, vegetables and herbs in containers is choosing varieties that make sense for the amount of space that you have. You might think there is nothing out there that fits your need, but that would be the furthest from the truth. There are plenty of determinant vegetable varieties that will work.
For example, if you love fresh home grown beans like I do, go with some heirloom bush varieties such as royal burgundy or golden wax, as opposed to pole beans that would require trellising and take up a bit more space.
If cucumbers are your favorite, you are in luck, because the determinant heirloom bush crop variety is perfect for your space, and grows very well in small containers. I am growing bush crop cucumbers this year and have nine plants in a three foot by three foot raised garden bed. You can squeeze plenty of these varieties of cucumbers in a small space and still get prolific production.
THE CONTAINER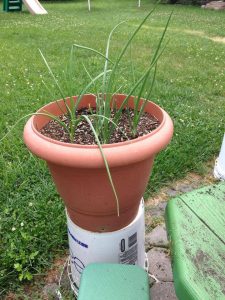 After you have decided what to grow, you now need something to plant your vegetables, herbs and fruit in. A good container will have a diameter of at least sixteen inches and a depth of no less than twelve inches, although much deeper is always better. If you can afford a bigger container for both price and space, I would highly recommend it.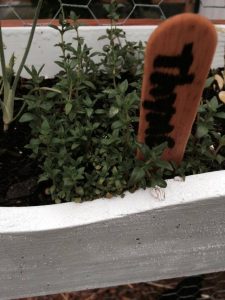 Because you are growing vegetables, fruits and herbs in containers, there are some things you have to remember.
Use a good potting soil that is loaded with plenty of plant food. The key here is potting soil.  Do not use a garden soil. Garden soil is too dense for a container application. There are a lot of great organic choices available, or you can make your own by combining homemade compost, a little perlite and some coir.
You will need to water your plants more frequently. Your container will dry out quicker, so watering daily will be a part of your routine, and if you are in an area with extreme high temperatures, twice a day is not out of the question. Just keep an eye on them.
Your container should have plenty of drainage. I would highly recommend drilling a few more holes into the bottom of your containers. This allows excess water to drain better. The last thing you want is excess water sitting around the roots of your vegetable plants. That will cause a condition called root rot.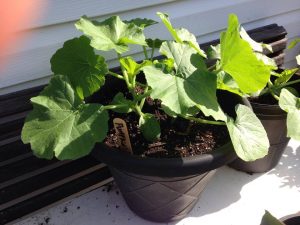 LOCATION
Your plants should receive at least 8 hours of sun although you can get away with less if you are growing leafy veggies such as kale, lettuce or spinach. The beauty about containers is that you can move them around. So if you are growing a container variety of tomato, which requires a full day's worth of sun, and the sun hits 4 hours on one side of your balcony, and 4 on the other, simply pick the pot up and follow the sun. It really is not that much work once you get used to it.
You may also want to consider adding artificial light, such as grow lights, if your apartment, condo, house etc., sits on the side that receives more shade than sun. They are very inexpensive, available at any giant home center, and do not cost that much to operate.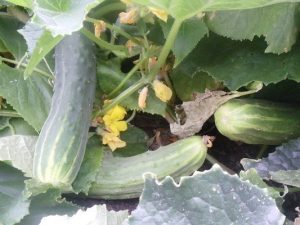 FEED YOUR PLANTS
Finally, don't forget to feed your plants. Because your vegetables, fruits and herbs are growing in confined quarters, they are going to use up the nutrients in the soil much faster. If you start with a good potting soil as mentioned earlier, you can easily get away with feeding your plants once per week after the first month.
I would recommend a good fertilizer like fish emulsion or even adding some compost to the top of your container and allowing it to work its way down, which it will eventually do. You can also use that compost to make compost tea, which makes a great elixir for your plants.
Just because you have a small space to work with does not mean you cannot be big on growing your own food. With a few tips and a little work, you will be well on your way to filling up those pantries with plenty of fresh beans, cucumbers, tomatoes and more.
About the Author
Mike Podlesny is the author of the book Vegetable Gardening for the Average Person as well as the creator of the Seeds of the Month Club where members receive non gmo, heirloom variety seeds every month. You can listen to Mike each week on the Vegetable Gardening Podcast where he interviews gardening industry experts.