This post is by Bernie Carr, apartmentprepper.com
A week ago, I unpacked the BioLite's Prep Kit – Apartment Edition. In Part 1 of the series, I reviewed the Solar Home 360 which includes the solar panel, Control Box, 2 Hanging Lights, 1 Security Light. Read all about it here.  
Part 2 covered the Sunlight Portable Solar Light here.
Today, I am reviewing another part of the kit, the Headlamp 330, a headlamp and Light Diffusing Stuffsack that turns it into a lantern.  I am not affiliated with BioLite the company that produces Headlamp 330 nor are they a sponsor of the blog. The opinions expressed in this review are mine alone.
Using the Headlamp 330
To use, just put it over your head and adjust the clips together. To tighten, push clips  toward the back of your head, and to loosen, push clips together toward the front of your head. It was easy enough to adjust and has a good range to fit a child's head.
There are several modes for the light: red flood, white spot, white spot, white spot and flood.  You can easily change between modes by clicking the power button.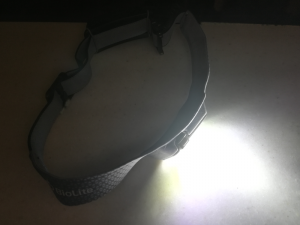 The panel light is adjustable so you can turn it four different angles.
The light is very bright, at 330 lumens. Even at low mode, it provides enough light.  The red mode is good when you have other people around you so you don't disrupt their vision with a bright light.
To charge it, just connect via a USB to a power source such as solar charger, power bank or wall plug.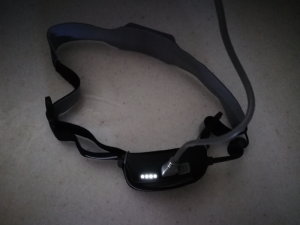 The stuffsack
To turn the head lamp into a lantern, just slip it into the stuffsack by securing the straps into two elastic bands inside stuff sack.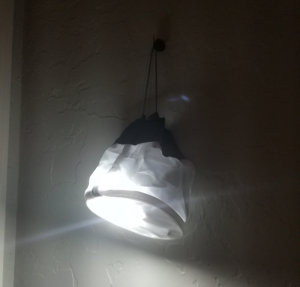 My impressions
The design is very comfortable and light. I've gotten headaches from wearing a headlamp before, but this one was fine and did not bother me at all.
Having a bright headlamp in a power outage can be helpful for hands-free lighting to get around the house and do tasks such cook meals, turn off the gas or water supply, etc.  I can see myself using this headlamp for camping or hiking. It can last for several days without a charge when used on lower brightness.  I would have liked a backup battery power in addition to USB but this is just a personal preference.
I like the idea of being able to turn the Headlamp 330 into a lantern – good for ambient light while eating enjoying meals, reading, playing board games. Both items are well-made and worth the price. They are good to have for a power outage, emergency use,  for camping or backpacking.
If you found value in the article, please help us keep this site free by supporting Apartment Prepper on Patreon. Click here: https://www.patreon.com/apartmentprepper No worries if you are not able to, I'll still keep writing!