This post is by Bernie Carr, apartmentprepper.com
I like eggs for breakfast, especially "over easy" eggs.  Dehydrated eggs are great for scrambled eggs but I have not found a dehydrated egg product that can make eggs over easy.
After a bit of research, I found out that making eggs last longer is very easy.  All you really need are fresh eggs and mineral oil.  Mineral oil is found in the first aid section of a pharmacy or even the grocery store, next to stomach remedies.
Here are the steps that I took:
I found out that you can check an egg's freshness by dropping it in a jar of water.  If it sinks, then it is fresh.  If it floats then it is no longer fresh.  So I tested the egg prior to oiling it.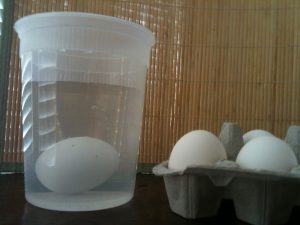 2.  I dried the egg and put on some gloves.
3.  I poured about a quarter size amount of mineral oil into my palm and rubbed it all over the egg, and repeated the process on six eggs.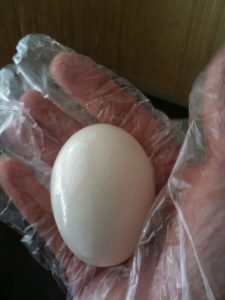 That's it!  I am leaving the eggs on the counter and I will check them weekly.  I will turn the container over once a week to ensure the coating stays even.  I am not sure how they will turn out.  It is starting to get humid and warm around here.  With air-conditioning, the temperature in the kitchen is around 75-78 degrees.  I will test the eggs for freshness in two weeks.  In the meantime I will do some more research on other ways to preserve eggs such as pickling etc.
I will definitely keep you posted!
Update after two months:  So far the eggs are still fresh.  No unpleasant odors or changes; I tested one and it sinks to the bottom of the cup of water so it is still good.