Written by Bernie Carr
I have lots of leftover corn, mashed potatoes and stuffing after Thanksgiving so I decided to use them up over the weekend. Here are two recipes I did to use them up.
Stuffing balls
You will need:
Leftover stuffing
Grated Parmesan cheese
1 egg
Panko crumbs (you can substitute bread crumbs)
Directions:
Take the stuffing out of the refrigerator and let it sit for about 30 minutes so it is no longer cold.
Preheat the oven at 350 degrees.
Add the grated Parmesan cheese to the stuffing. You don't really need to season the mixture because the stuffing already contains seasonings.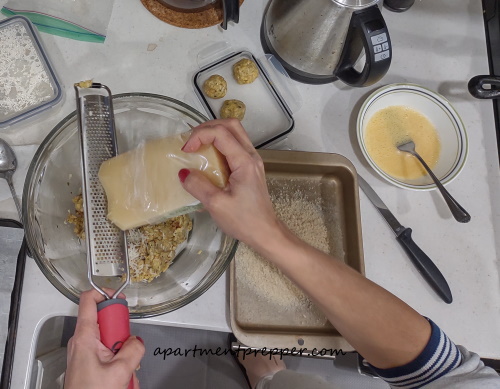 Beat the egg in a separate bowl.
Place 1/2 cup of Panko crumbs into another bowl.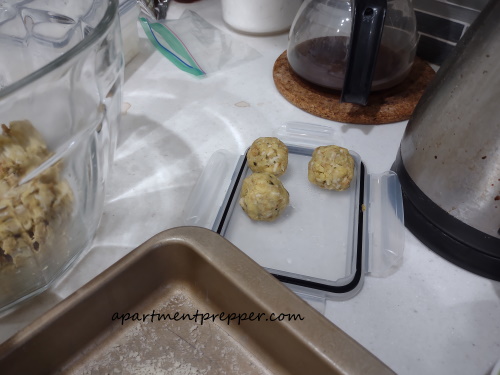 Shape the stuffing mixture into small balls. Dip each ball into the beaten egg, then roll it around in the panko crumbs until it is well-coated. Repeat this process until you have used up the stuffing.
Place the panko-coated balls in a cookie sheet and bake for 30 minutes. I checked them at 15 minutes and turned them over.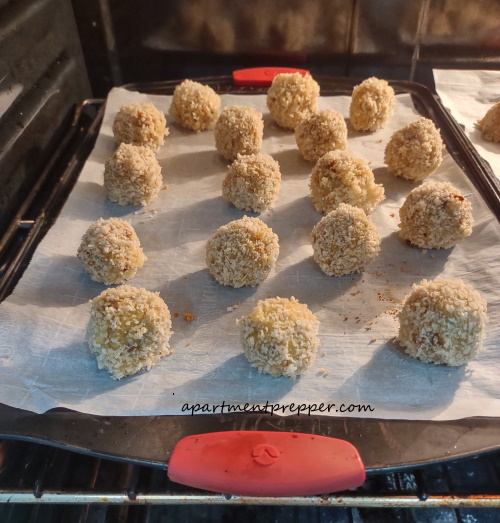 Serve with ranch dressing or Sriracha mayonnaise.
Mashed potato balls
You will need:
Leftover mashed potatoes
1/4 cup grated cheddar cheese
Leftover corn
1 egg, beaten
Bread crumbs (you can also use Panko crumbs)
Directions:
Preheat the oven at 350 degrees.
Mix the mashed potatoes, cheddar cheese and corn. Shape them into small balls.
Dip each ball in the beaten egg, then dredge in the bread crumbs until each one is well-coated.
Bake in the oven for 30 minutes. Check them at 15 minutes and turn them over.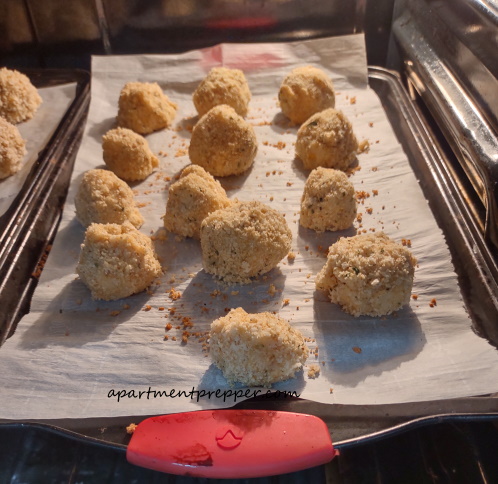 Serve with ranch dressing or Sriracha mayo.
That's it. These recipes were super easy to make. Last year, I made tacos out of our leftover mashed potatoes, but this year I decided to try making these. The family liked them and I am happy to share these new Thanksgiving leftover recipes.
Do you have favorite leftover recipes? Please share in the comments below.
---
If you found this article interesting or helpful, please consider helping us out (without costing you anything)! We are an affiliate of Amazon.com, which means we received a small commission if you click through one of our Amazon links when you shop, at totally no cost to you. This helps keep the lights on at the blog. Thanks!
Bernie Carr is the founder of Apartment Prepper. She has written several books including the best-selling Prepper's Pocket Guide, Jake and Miller's Big Adventure, The Penny-Pinching Prepper and How to Prepare for Most Emergencies on a $50 a Month Budget. Bernie's latest e-book, FRUGAL DIY has just been released on Amazon. Her work appears in sites such as the Allstate Blog and Clark.com, as well as print magazines such as Backwoods Survival Guide and Prepper Survival Guide. She has been featured in national publications such as Fox Business and Popular Mechanics. Learn more about Bernie here.