This post is by Bernie Carr, apartmentprepper.com
My daughter gave me an early Mother's Day gift – you guessed it – a food dehydrator. Since I had wanted one for a while now I could not wait to try it out and opened it way before Mother's Day.
Why I wanted a food dehydrator
Drying food is a great skill to have.
Supplement your food storage with dried foods.
Take advantage of produce and meat sales.
Preserve foods you are not able to use and avoid waste.
Control what goes into your dried foods – no preservatives or additives.
Make great snacks for the family.
I've posted articles about drying fruit in an oven or convection oven before, so you may be wondering why did I still want one?  The main reason is the energy expenditure.  My small turbo convection oven which I use for cooking bacon, air-frying and baking uses 1300 watts per hour, while the food dehydrator only uses 400 watts.
She got me the Nesco American Harvest Dehydrator and Jerky Maker.
How to dry fruit in a food dehydrator
I decided to dry bananas and canned pineapple (in juice).  Here are the steps I took:
1. I sliced the bananas in thin even slices. To make the slices even, I used a mandolin slicer. (The mandolin slicer is very sharp, so watch your fingers and knuckles as you can slice skin off.)
2. Open the canned pineapple and save 1/4 cup of the pineapple juice; you can drink the rest.  Since I used canned pineapple there was no need to slice.
3. Dip the banana slices in the 1/4 cup pineapple juice to prevent browning.
4. Wash the food dehydrator trays and dry thoroughly.
5. Arrange the fruit slices in the food dehydrator. They should not be touching as this will delay the drying process.
6. Turn on the dehydrator.  Use the recommended hours in the instruction manual.
I left the dehydrator on for about 10 hours before checking if they were done. I found they were already dry so I turned it off.
Results
Running the food dehydrator all day gets to be a bit noisy.  Next time I will make room and place it in the garage so I can run it all day and not hear any noise.
The dried bananas were a bit stuck on the food trays. I just needed to pry them off with a spatula.  They came off very easily, but next time I may spray the trays with Pam cooking spray. The pineapple slices came off easily.
Taste
Both had a really good taste.  Since I did not add sugar, and the bananas I used were not completely ripened, the dried bananas were less sweet than store bought banana chips.  I found them to be just as crunchy as store-bought banana chips.
The dried pineapples were naturally sweet and have a pleasant chewy texture.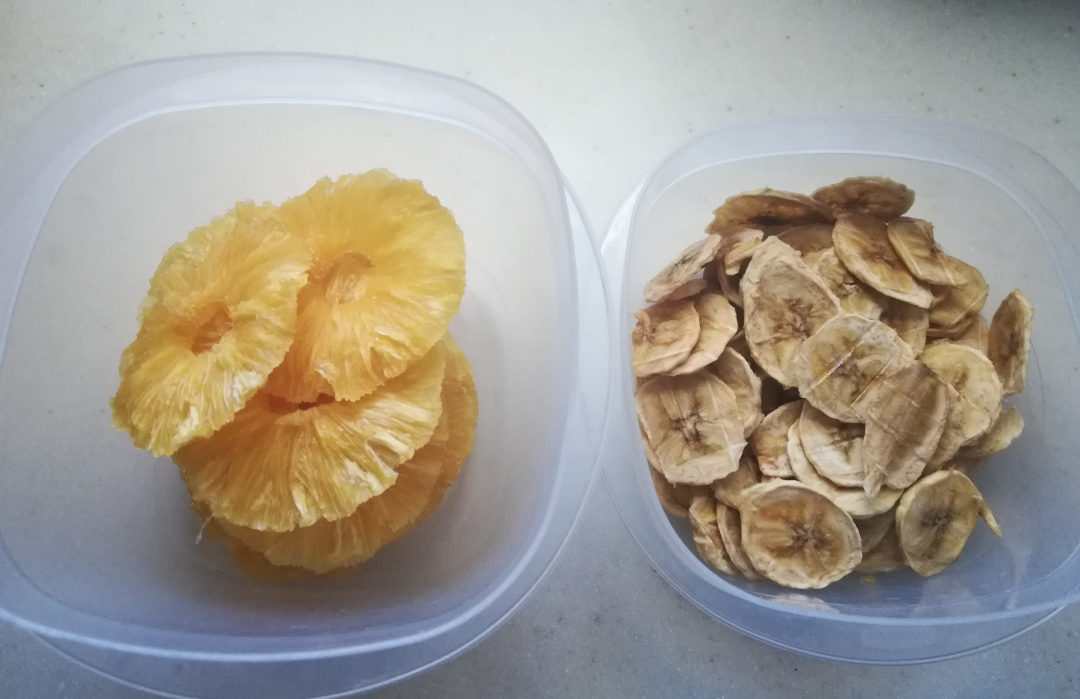 All in all, drying fruit in the dehydrator was great and I will be trying to dry other foods such as vegetables and meat.  My next project that I will post about will be beef jerky.
Have you tried dehydrating food?  Please share your experience in the comments below!
© Apartment Prepper 2019