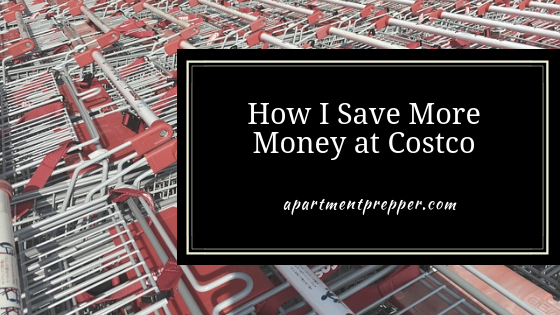 When I first started prepping I resisted joining a warehouse store.  I did not want to pay the annual dues, and I felt I would end up with junk I don't need.   The one year I did join with an employee discount, I overspent by about $300 and ended up with moldy croissants and way too many Cinnabon cinnamon rolls.  I figured there is no way I would ever join again.
Once I started buying supplies for emergencies I re-evaluated the membership store.   I checked the prices for bags of rice, flour, sugar at the grocery and discount stores like Target and compared them to Costco.  I found out that Sam's and Costco have lower prices when you are buying 50 lb bags of bulk items.  For example, you can get a 5 lb bag of rice for about $6-7 at the grocery store, but Costco may have a 50 lb bag of rice for about $18-$20.
Here are examples of emergency supplies at much better prices:
batteries
vitamins
prepacked First Aid kit
pain medicines, allergy relief
pack of 3 LED flashlights
plastic bins for storage
toilet paper
Here are some tips to conserve space and cash:
If you but a large number of toilet paper rolls, remove the center cardboard from the center of the rolls and smash them down in a giant ziplock bag.  This way you can lay the whole thing flat under the bed or on top of a closet
If you don't wish to pay the annual dues, watch the newspaper or mail flyers.  I have seen Sam's give out coupons for a 1 day trial membership.  Make a big list,  and buy all your bulk and prepping items all at once.
Bring cash or use your debit card, as credit card use may be limited – for example, Costco only accepts American Express credit.
Feel free to try the store samples they are always giving out-it's best to taste before you buy.  Stay away from untasted specialty items, as you may end up with a large quantity of something you don't like: for example salsa that is either too sweet or too spicy.
Try sharing a membership with a friend or family member, you can also split the multiple items in a pack
Seasonal items are available 10 days before department stores even bring them out, so plan ahead.
Gas prices are cheaper at the Costco or Sam's so you might as well fill up while you're there.
Get the real deal. Whether bugging out or sheltering in place, you can never have enough clean water for survival: For your water purifier needs, please visit: