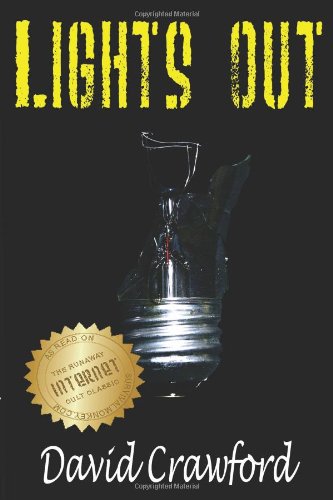 I almost did not read Lights Out.  I had read One Second After and that worried me enough to push me along the preparedness path (See How it All Started.)  My husband recently bought the book and started telling me that while it deals with an EMP just like One Second After, Lights Out takes a completely different approach.  I was intrigued so I started reading immediately after he finished it.
I am a pretty fast reader normally but this book is not a quick read.  It is a huge book in small print.    The book starts out with normal people going about their daily business:  working in the jobs, going to school etc. and suddenly the power goes out.  People are at a loss about what happened and spend time scratching their heads and paying attention to the immediate details of how to get home when their cars won't start.   The author outlines in very vivid details how life is affected from that moment on.
Slowly the quality of life for much of the population starts deteriorating as the far reaching effects of the disaster spreads.  Various people cope in different ways.
The book had many themes running through it, among them:
The more preparedness minded or at least resourceful people fare much better in the long run.
Skills can count as much as supplies.
A disaster can bring out the worst in some people, but could bring out the best in others.  At the same time there is no way of knowing which way someone will go, so you must be on guard at all times.
Sometimes certain details may escape you, and these can come and literally bite you (as in the tamest dogs who are let loose in the wild by their owners can become feral and start attacking people in packs)
Criminals and gangs will run rampant and prey on people as soon as SHTF
Though you may be well stocked in your location, circumstances can force you to leave your home.
There were some aspects of the book I didn't care for:  some characters seemed too good to be true, some situations where people behaved too admirably that left me thinking, "no way, people are not that nice," or characters that seemed too one-dimensional, but I can overlook them.  Overall, I admired the great attention to detail.   If the detailed part does not interest you (such as how they rigged a tractor, how the defenders chose ideal spots to dig a foxhole etc.) then speed read the details and move on to the next part.  You actually pick up a lot of information from reading this book that you can apply to your own preparedness efforts.   This makes the book worthwhile in terms of time and price; therefore, I give it a thumbs up.

For your food storage needs, please visit Emergency Essentials:

For more preparedness tips, read my book: