This post is by Bernie Carr, apartmentprepper.com I'd love it if you can help support Apartment Prepper on Patreon to help keep this site free. But it's all up to you, I'll still post articles as normal whether you do or not 🙂
I received some samples of the LifeStraw for review.
What is the LifeStraw? 
The LifeStraw is a portable method to filter and purify water.  It uses a hollow-fiber membrane to remove bacteria and turbidity. There are no chemicals, iodine, or moving parts. It's ultralight and inexpensive enough to keep in your backpack for hiking, backpacking, camping or in case of emergencies. Each LifeStraw will purify up to 1,000 liters or 264 gallons. Once it reaches this limit, you can no longer use it. The flow will stop as the membrane pores will have become plugged with debris.
I decided to test my sample while rafting along the Guadalupe River.  When we visited the river, the water was on the low side, due to the current drought.  In some areas, the water was not even moving much:  the stagnant water was starting to form scum, and there were lots of mosquitoes.  That is the reason I preferred not to get on all fours and drink the water directly from the water source.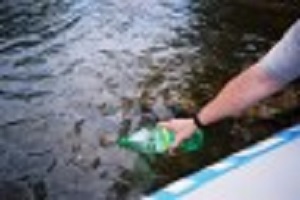 Instead, I decided to collect the water with a bottle from the river, then drink said water with a LifeStraw.  Being a bit squeamish about drinking scummy water, we avoided the stagnant areas and took water where it was flowing better.
How to use
Before using, uncap and let it stand up in a tall glass of water for one minute. That allows the water to seep into the membrane. (I did this step before rafting)

Take 5 quick strong sips and the water will flow up through the mouthpiece.

If it plugs while drinking dirty water, blow back into it to clear the membrane.
My impression
I did the above steps and drank the river water.  I wasn't sure how it would turn out, but the water tasted good, like normal drinking water should taste.  I had no ill effects from drinking it either.
The LifeStraw is lightweight and portable which makes it ideal for camping or backpacking, as well as a backup water for emergency home use.
At $17.47 each, the LifeStraw is reasonably priced.  It's available on Amazon and other retailers.
If you found value in the article, please help us keep this site free by supporting Apartment Prepper on Patreon to help keep this site free. Click here: https://www.patreon.com/apartmentprepper No worries if you are not able to, I'll still keep writing!