I received some samples of the LifeStraw for review and giveaway.
What is LifeStraw? 
The LifeStraw is a portable method to filter and purify water.  It uses a hollow-fiber membrane to remove bacteria and turbidity. There are no chemicals, iodine, or moving parts. It's ultralight and inexpensive enough to keep in your backpack for hiking, backpacking, camping or in case of emergencies. Each LifeStraw will purify up to 1,000 liters or 264 gallons. Once it reaches this limit, you can no longer use it. The flow will stop as the membrane pores will have become plugged with debris.
I decided to test my sample while rafting along the Guadalupe River.  When we visited the river, the water was on the low side, due to the current drought.  In some areas, the water was not even moving much:  the stagnant water was starting to form scum, and there were lots of mosquitoes.  That is the reason I preferred not to get on all fours and drink the water directly from the water source.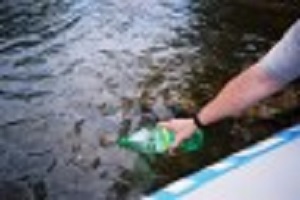 Instead, I decided to collect the water with a bottle from the river, then drink said water with a LifeStraw.  Being a bit squeamish about drinking scummy water, we avoided the stagnant areas and took water where it was flowing better.
How to use:
Before using, uncap and let it stand up in a tall glass of water for one minute. That allows the water to seep into the membrane. (I did this step before rafting)

Take 5 quick strong sips and the water will flow up through the mouthpiece.

If it plugs while drinking dirty water, blow back into it to clear the membrane.
I did these steps and drank the river water.  I wasn't sure how it would turn out, but the water tasted good, like normal drinking water should taste.  I had no ill effects from drinking it either.
At $19.95 each, the LifeStraw is reasonably priced.  See http://eartheasy.com/lifestraw or visit their Facebook page:
https://www.facebook.com/lifestraw

You can also find LifeStraw available at other locations. See http://eartheasy.com/lifestraw-store-locations
The Giveaway
I am giving away two LifeStraws.  Just leave a comment below on either one of the following:
any experience regarding the dirtiest water you have had to drink  OR

why you need the LifeStraw
The winner* will be chosen at random on Saturday, July  20th at 8 pm Central.  Good luck!  I look forward to reading your entries!
*Winner will be notified via email.  Winner must reply to email notification within 48 hours or another winner will be drawn.
This giveaway is now closed.