This post is by Bernie Carr, apartmentprepper.com
I had a different article planned for today, but I needed to post this instead.  I wanted to let readers know your checking account may be in danger of being robbed – review your statements closely before it's too late.
How do I know this?  Because it just happened to me.  I try to avoid using credit cards, and instead have one checking account where we just keep the minimum amount for online purchases.  I review my accounts' statements online a couple of times a month.  This time, I noticed a couple of little charges: a $0.90 "international charge,"  followed by a charge for $29.95 from "Hammy Med Cust Svc."  I had not charged anything internationally, and have not done any business with anything with that name.  The following week, the same charges repeated.  I did a search online on what is this company and only found complaints from US and UK residents indicating their accounts had also been charged and they had no idea how it happened.
I called my bank and reported the fraudulent charges.  Of course the rep has to ask in a few different ways if I did these charges myself, and I answered each time, "No, I have never even heard of this company."  The bank also tries to tell you that you should clear it up yourself by calling the company that made the charges.  I told the rep these charges are just fraudulent and the bank should never have allowed them.
Fortunately, the bank agreed to refund the money.  At last check, these scammers are still trying.  Once again, I saw new pending charges, which will be rejected, since we have cancelled the cards associated with the account.
I thought I was fairly vigilant about things like this, but apparently reviewing bank statements once or twice a month is not enough.   Even small charges should raise a red flag.  I plan to review accounts on a weekly basis.  Banks have time limits whereby you can contest fraudulent charges.  If too much time has passed between the date of charge and the date you reported it,  they may not reverse the charges.   Each bank deals with it differently, and you'll have to dig through your bank's fine print to find out.  I plan to switch all online purchases to a credit card.  As much as I'd rather avoid them, credit cards offer more protection from fraud than debit cards (but read the fine print in your card agreement).  Look at your bank statements line by line and report anything suspicious, even tiny amounts, as soon as possible.
© Apartment Prepper 2013
Get the real deal. Whether bugging out or sheltering in place, you can never have enough clean water for survival:
For your water purifier needs, please visit
: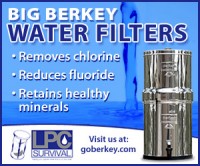 For beginning preppers