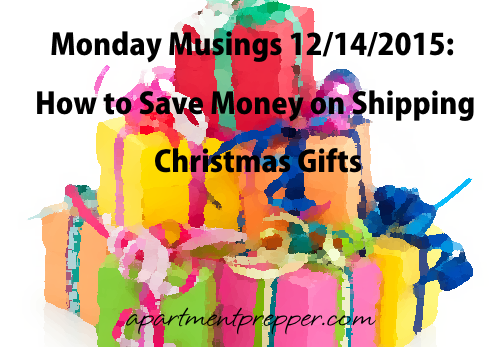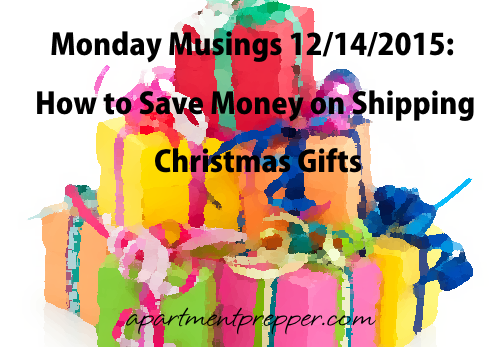 This post is by Bernie Carr, apartmentprepper.com
Welcome to another Monday Musings, where we share interesting links about all things preparedness, as well as updates on the blog.
First the blog updates…
Finding ways to save money on shipping Christmas gifts  Since Christmas is less that two weeks away, I've been busy getting the gifts together.  I mentioned making a few gifts, but we do have a couple of gifts that were store bought, such as children's toys.
Shipping cost are often left out when considering the gift budget.  As I have found out, shipping things yourself can run up a large bill if you are not careful.
Here are a few tips to save money on shipping:
As I learned, it is much cheaper to buy the item online and have the seller ship it directly to the recipient.  If you want it to be more personalized, have it gift wrapped for a few extra dollars, and add a nicely worded greeting.
To save even more dollars, and have fast shipping, sign up for Amazon Prime.  You get free two-day shipping, along with entertainment such as video and music streaming. I mostly like it for the free shipping.
Save boxes and bubble wrap throughout the year, so you can pack things yourself.  The pack and ship service at the UPS store is convenient, for you do get charged extra for the packing service.  Some people use popcorn instead of packing peanuts, but since I have not tried it myself, I don't know how well it works.  You can also use shredded paper, but paper is heavier than packing materials such as plastic or Styrofoam.
If you are sending gifts to various members of the same family, and you know they will be getting together at Christmas, pack all the gifts in one box and send it to one location, preferably the one that is the gathering place. One year, I sent all the gifts to my parent's house, since everyone was getting together anyway.  Sending one box instead of many saves you money.
Send gifts as early as possible.  Sending gifts too close to Christmas will cost you a lot in overnight shipping fees.
Consider all your options.  The US Postal Service has reasonable rates for Standard, First Class and Priority Mail.  For Priority Mail you even get the boxes for free.  Ground shipping via Fed Ex or UPS are the next best options.  However, the closer you get to Christmas, the less options you have.  Also, if you add services such as signature receipt, insurance etc. you start adding to the cost.
Plan your gift items carefully.  Odd shaped and large items cost more to ship.
Rotating our preps  We're continuing to rotate our supplies, from  canned foods to rice, sugar and other bulk items.  This also means replenishing what we used up.  Costco makes it convenient to pick up an item or two.
Giveaway  You still have a chance to sign up for our giveaway of Prepper Hacks by Jim Cobb.
Now for the links…
Free alternatives to Netflix to stream TV shows and movies
The Active Shooter: Staying Alive
Energy Efficiency: 10 Ways to Increase It and Save Money at Home
Scientists have found a new strain of bacteria that is resistant to all antibiotics
How to Pay Off $10,000 in Debt Without Breaking a Sweat
Take care and have a great week everyone!
© Apartment Prepper 2015