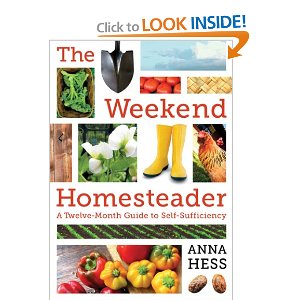 I am excited to announce our February Giveaway at Apartment Prepper.   This month we are giving away a copy of The Weekend Homesteader: A Twelve-Month Guide to Self-Sufficiency, by Anna Hess.  I am reading a copy of this book as well, thanks to the publisher, Skyhorse Publishing.   I am sure to try one or more projects described in the book, and I will let you know how it went.
The book will help you try your hand at various projects to get you on the road to self-sufficiency without getting you overwhelmed.  It is an attractive book, with full color photos, glossy pages and is packed with information.  You will learn to cut your grocery bills, eat healthier and learn new skills whether you live in an apartment, suburban home or acres of farmland.
To enter, just leave a comment below on one of these topics:
the most recent prepping or self sufficiency skill you have tried out OR
what self-sufficiency project you are most interested to try out this year and why.
The winner will be chosen at random on Saturday, February 9th at 8 pm Central.  Good luck!  I look forward to learning about your new skills!
This giveaway has ended.
Get the real deal. Whether bugging out or sheltering in place, you can never have enough clean water for survival: For your water purifier needs, please visit: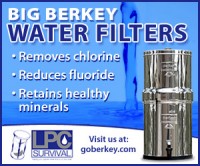 For beginning preppers