This post is by Bernie Carr, apartmentprepper.com
Welcome to another Monday Musings, where we share interesting links about all things preparedness, as well as updates on the blog.
First the blog updates…
Why I'll be busy for the next couple of months

I'm working on my next book, The Penny-Pincher Prepper: Save More, Spend Less and Get Prepared for Any Disaster due out this October.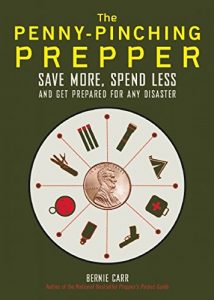 I'm excited that it is now listed on Amazon, driving me to work harder on it every day.  I'm still posting articles on Apartment Prepper, just not as frequently.  And, I read all comments, though I may not be able to respond to all of them.  I appreciate all your support!
Don't forget to enter our current giveaway:  This week you can enter our latest giveaway, Daisy Luther's latest book, The Organic Canner.  All you have to do to enter is to leave a comment answering a quick question – Have you done any home canning, and what is your biggest challenge in this area?  Winner will be chosen on Saturday, March 7th at 8 pm Central.
Sellling CDs online update
A couple of weeks ago I mentioned we were decluttering and trying to make extra money at the same time.  I'm happy to report I got my first check from Second Spin and now I am encouraged to sell more.  I am not affiliated with them, just passing info along in case you want to try making money off old music CDs, DVDs or games.  Read their Selling Help page carefully before proceeding.
Now for the links…
Free water webinar hosted by Gaye Levy and Glenn Meder: How to Properly Treat Water in an Emergency Situation
This online class happens Wednesday, March 4, at 7 p.m. CDT, (8 p.m. EDT / 6 p.m. MDT / 5 p.m. PDT).
Click here to reserve a spot Free water webinar

10 Daily Habits of Frugal People
Which Saves the Most Money-Dehydrating, Freezing or Canning?
Here is an infographic with good information on recommended storage times for frozen food from freezerlabels.net
Take care and have a great week everyone!
© Apartment Prepper 2015