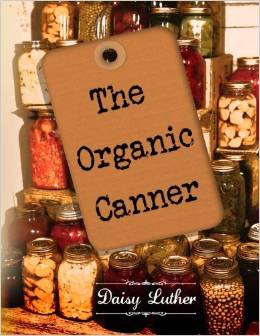 This post is by Bernie Carr, apartmentprepper.com
Today we are featuring The Organic Canner by Daisy Luther.   For anyone who is not familiar with Daisy Luther, she runs The Organic Prepper and her articles are widely publicized in alternative media.
I was excited to read The Organic Canner.  Canning is a great skill to learn for self-sufficiency, and it's a way to add to your food storage supplies at a low cost.  Learning how to can has been in my to-do list for some time, but I have not undertaken the challenge due to lack of space and a degree of uncertainty.  Let's face it, a lot of dedicated DIY folks are intimidated by canning.  "What if my home canned food turns bad?"  is a common objection.  Well, The Organic Canner is exactly the type of book for newbies like us.
Written in a conversational tone, Daisy makes you immediately comfortable you picked up the book.  She walks you through the most basic steps, in easy to understand directions – you will feel she is right there with you.  You can tell she speaks from a wealth of experience, which gives you confidence that she knows what she is talking about.
The recipes are simple with easy to find ingredients.  I enjoyed reading The Organic Canner, and contacted Daisy with a few questions of my own.
Here is the interview:
1.    Many apartment dwellers feel reluctant to try canning due to the equipment involved and space required.  How might a person who lacks space get started?
As much as we'd all love a Better Homes and Gardens kitchen, it's not necessary for preserving your food. Canning doesn't take up as much room as you would expect. You need a small amount of counter space – enough for a canner load full of jars, and a stove.
2.    The book gives great instructions for water bath canning and pressure canning.  If you had to choose between the two, just to get started, what minimum equipment would you recommend?
If you're just getting started, the easiest way is with water bath canning. The equipment is far less intimidating, and you'll find that jams, jellies, pickles, and salsa are difficult to mess up.
3.    I already own a pressure cooker, how is this different from a pressure canner?  Can a pressure cooker do the same thing?
It isn't advised to pressure can in a pressure cooker. Canners have a valve and gauge, and it's vital that you be able to accurately monitor the pressure. Underprocessed food can be  source of deadly food poisoning.
4.    Another issue people worry about are the risks of contamination.  There is always some story in the news about people getting sick from home canned food – what are your thoughts about this?
There are definitely risks involved if you don't do things properly. It's important to follow the instructions very carefully. If you err, err on the side of adding more time. Your pressure must be held consistently in order to be assured of safety.  Botulism is a type of food poisoning that can cause symptoms as extreme as permanent paralysis or death. Now that I've sounded really scary, I want to reassure you that if you follow the instructions, your product will be safe and nutritious.
5.    What are some tips that you personally use to save money on organics?
I buy a lot of our food from people I know. Many local farmers raise their crops and livestock organically, but they can't afford to jump through all of the hoops the government requires of them to become "certified organic".  If you can get to know people well enough to learn about their practices, you can save a substantial amount of money over "Whole Foods" prices.  You can supplement your groceries with things that can be grown in a small yard, on a balcony, or even in a sunny windowsill. Pick your battles – not everything has to be organic. Every year, the Environmental Working Group comes out with lists of the foods that are most important to buy organic and those which aren't as bad when purchased conventionally-grown. Finally, shop in-season. Even organic produce is much more reasonable when you buy it at the right time of year.
A big thank you to Daisy Luther for answering our interview questions!  If you have an interest in canning, you should read
The Organic Canner.
Now for the giveaway:
I am happy to add that Daisy Luther also provided a copy for giveaway.  One lucky winner will be chosen via a random drawing.  To enter, please answer the following question in the comments:
Have you done any home canning, and what is your biggest challenge in this area?
The winner* will be chosen at a random "Pick a Giveaway Winner" drawing on Saturday, March 7th at 8 pm Central.
*Winners will be notified via email. 
*Winner must reply to email notification within 48 hours or another winner will be drawn.
This giveaway has ended.
© Apartment Prepper 2015