Written by: Sage SingletonSage Singleton
Whether you live alone, with a partner, or share with multiple roommates, it's important for your apartment to feel safe. However, because renters typically can't have wired security systems or elaborate devices drilled into the walls, you have to get creative with securing your apartment.
Luckily, you don't have to own your space or have a big budget to boost your apartment's security. The following are a few inexpensive and easy ways you can secure your apartment.
1. Add Locks to Your Windows
Want to air out your apartment or enjoy a cool breeze without worrying about a break-in? Window locks, also known as window stopswindow stops, are simple and inexpensive security accessories that take less than a minute to install. With a window lock, you can leave your window open several inches without allowing anyone to open it more. Many window locks slide on the sill and don't require any installation, drilling, or nailing. When you move, simply twist the window locks off.
2. Install a Smart Lightbulb
While you don't want to waste electricity and leave your lights on all day, you may not feel comfortable arriving home in the dark. Rather than install motion sensor lights, swap out a lamp bulb with a smartbulb. Via an app on your phone, you can access and schedule the light to turn on or off at a specific time each day. This scheduling can help deter burglars, as they may assume someone is home, and help you feel more at ease if you arrive home late at night.
3. Use a DIY Home Security System
Just because you're renting doesn't mean you can't use a home security system. Hardwired systems are a thing of the past, and many of today's top home security systems—like Vivint, ADT, SimpliSafe, and Frontpoint—only require an outlet to connect. Along with wireless gadgets you can easily install and remove, some of these systems offer home automation integration, inexpensive monthly plans, and even DIY monitoring. With monthly packages as low as $14.99 per month, securing your rental on a budget is easier than ever.
4. Hide a Security Camera
Like security systems, security cameras today are compact, affordable, and easy to install and use. Devices like the Nest Cam offer 24/7 live streaming and alerts via an app. All you need is an outlet to plug in the device and you're ready to stream. Since many of these cameras require self-monitoring, there are no monthly charges, though some offer additional monitoring for a fee. Starting at $5 per month, Nest offers a Nest Aware subscription that continuously records and saves the videos for 5–30 days so you can access that video history at any time.
5. Think Small
Beyond installing security systems and other accessories, you can make quick, easy, and free changes around your rental to have even more security. Avoid leaving expensive items, such as jewelry or electronics, near windows where outsiders can see them. If you'll be gone for a vacation, ask a friend to check in and take in your mail, or ask the post office to hold it for you. Lastly, don't underestimate the power of friendly neighbors. Get to know those living nearby so you can each give the other a heads-up if something looks or seems suspicious.
With a few simple adjustments and minimal investments, you can feel more at ease and secure, whether you're in your apartment or away from home on vacation. No one wants to live in fear, and taking precautions can help you reduce security risks and feel more at ease.
About the Author:
Sage Singleton is a Digital Journalist who specializes in safety, home maintenance, personal finance, lifestyle, relationships, health and wellness, home automation, tech, weddings, travel, parenting. You can find more of her work at https://sagesingleton.contently.com/
Image by F. Muhammad from Pixabay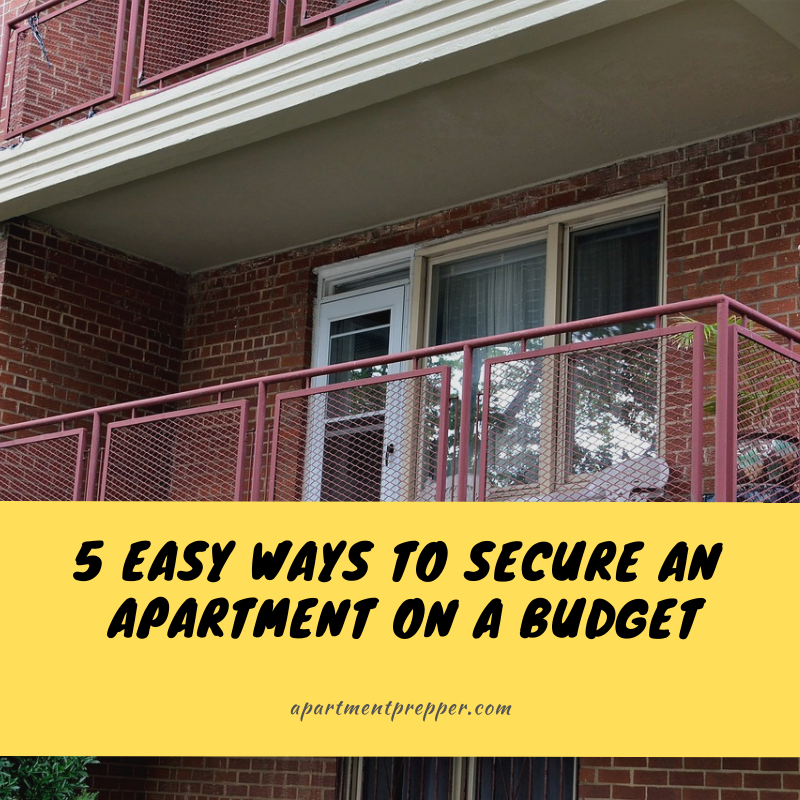 For more tips on prepping on small budget, read my latest book: