by Bernie Carr
Anytime a major natural disaster occurs, the aftermath usually includes a power outage. Just look at a few recent reports:
Canada: Hurricane Dorian's sting in the tail leaves 500,000 without power
Thousands still without power Monday after powerful storms rake Dallas-Fort Worth
Over 5 million people without power across Ohio
Avoid being stuck in the dark by preparing your light sources ahead of time.
Build your lighting collection using these two tips
These tips are from Ron Brown, author of a popular series of e-books on lighting.
1. Assemble a collection of inexpensive flashlights that will run on common batteries you can find around the house.
2. Choose a flashlight that can run on just one battery.
Some Examples
AAA Battery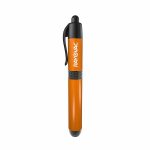 The Rayovac Model BEPN1AAA-BTA uses just one AAA battery.
D Battery
Older models:
· Eveready UPN 132295

· Rayovac VB1DLED-BA
· Dorcy 41-2339
Newer models:
Eveready UPN 138514
Rayovac VBJ1D-B2
Ozark Trail OT LED Plastic Flashlight1D
For more details and fun lighting hacks, watch the Cheap Emergency Lighting YouTube video by Ron Brown using the link below.  It gives awesome tips on accumulating emergency lights that will be available to you just when you need it. You can view it here: