Written by Bernie Carr
Just a quick post today, as I share interesting tidbits of information that I have come across.
What is the warning?
According to the Newsweek article, the Newnan Police Department (NPD) in Georgia, shared a photo on Facebook warning people that simple bumper stickers can potentially give a lot of information about you to criminals.
Here's what they posted:
Credit for this photo goes to the original poster, the Town of Boone Police Department.

We understand that placing stickers on your vehicle is your choice, but you never really know how much information you are giving out to the public.

You could potentially be telling criminals your schedule, your personal information, or even what you own in your home or vehicle!

Facebook Newnan Police Department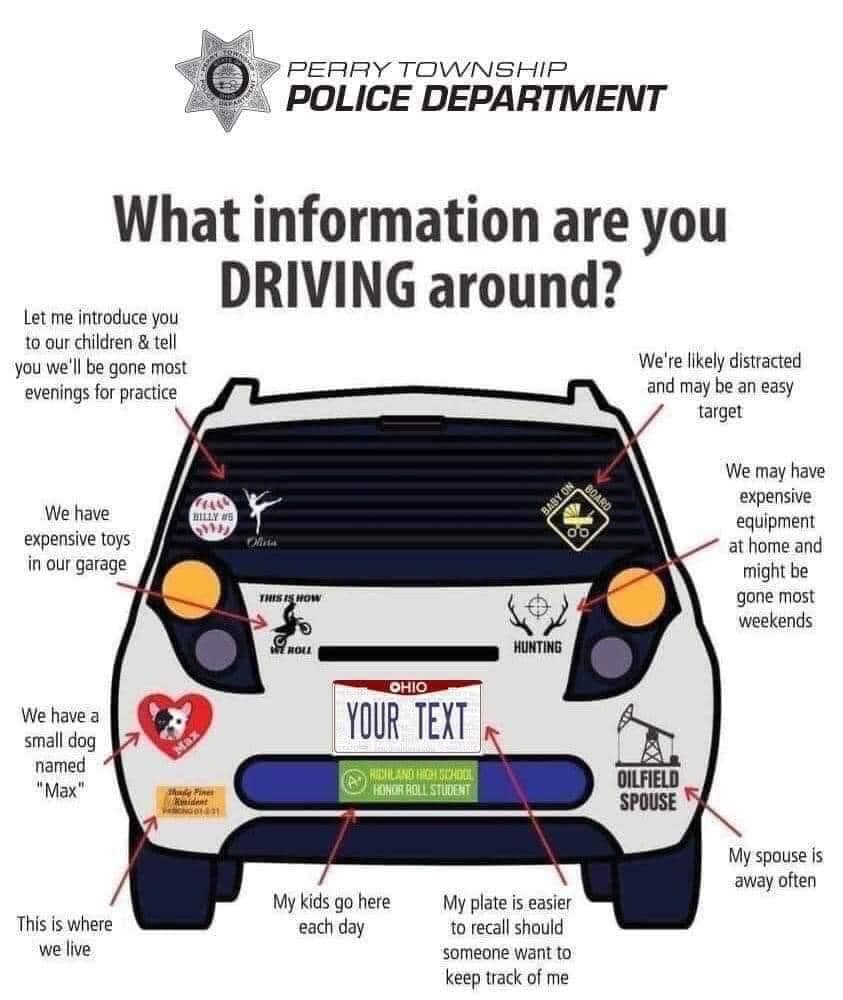 A wealth of information for thieves
We have been alerting people on what information we are sharing with the world, criminals included. See my original article: Are you unknowingly inviting thieves to rob you?
Even your appearance or demeanor can get you targeted as a potential victim. The warning from the Newnan Police Department confirms even stickers that may seem innocent enough can be used against you.
With all the rampant crime going on in many cities right now, you can't be too careful.
---
Bernie Carr is the founder of Apartment Prepper. She has written several books including the best-selling Prepper's Pocket Guide, Jake and Miller's Big Adventure, The Penny-Pinching Prepper and How to Prepare for Most Emergencies on a $50 a Month Budget. Bernie's latest e-book, FRUGAL DIY has just been released on Amazon. Her work appears in sites such as the Allstate Blog and Clark.com, as well as print magazines such as Backwoods Survival Guide and Prepper Survival Guide. She has been featured in national publications such as Fox Business and Popular Mechanics. Learn more about Bernie here.
We are an affiliate of Amazon.com, which means we received a small commission if you click through one of our Amazon links when you shop, at totally no cost to you. This helps keep the lights on at the blog. Thanks!