Yesterday I posted about pan frying the Thrive Dehydrated Roast Beef.  This was the "if I am out in the wilderness and have no other ingredients" part of the test.
In today's post I wanted to see if this is a product that I would stock on a normal basis, as a possible ingredient for a quick dinner, or as an emergency meal when the power is out.
I started out the same way:  rehydrate the beef in some hot water.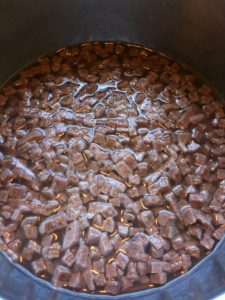 Then I made a brown beef gravy and mixed it with the rehydrated beef pieces.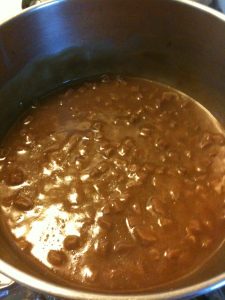 I then made some instant mash potatoes to go with the beef gravy.   I admit it, I take shortcuts with weeknight dinners.   This is after all an "emergency food" themed dinner.  For vegetables, I served canned corn, which counts as emergency food as well.
Here is the beef gravy over mashed potatoes: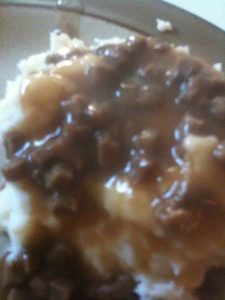 As far as appearance and smell, not bad.  Time to dig in.  Hmmmmm…..   We did not much care for the texture of the dehydrated roast beef cooked in gravy.  It just got too rubbery for my taste.  Okay so the panfried method from yesterday was much better.   I think I will figure out other ways to cook it based on the panfried method such as tacos, beef hash with potatoes etc.
I hear the chicken and ground beef versions are pretty good.  I will have to try those another time!
For easy ways to become more prepared, read my book: