Today I got to test out something I have been curious about for quite some time:  freeze dried roast beef.  Misty McBride who runs Your Own Home Store blog sent me a sample of Thrive Freeze Dried Roast Beef and I am pleased to offer an objective taste test.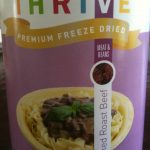 For anyone like me who as never seen freeze dried roast beef, I took lots of pictures so you know what it looks like before and after cooking.
Here is what it looks like when you first open the can.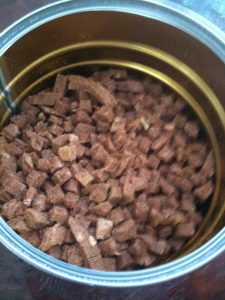 The instructions indicated it needs to soak in hot water for about 15 minutes.  I checked with Misty for further tips and she mentioned boiling tends to make it tough; after soaking in hot water you can add any sauces or seasonings for whatever dish you are preparing.  For this test, I measured about 1/2 cup of freeze dried roast beef, then added 1 1/2 cup of water to rehydrate it.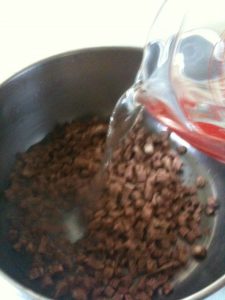 I left it alone for about 15-20 minutes.  Here is what it looks like rehydrated.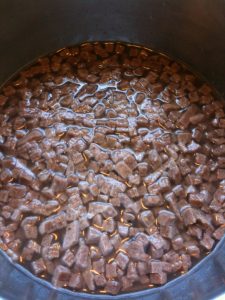 I double checked the can and it indicated this is precooked, so it is edible.  I drained out the excess water after the beef was rehydrated, and tasted it.    As is, the meat tasted just like boiled meat, but the texture on its own (without further cooking or seasoning) was a bit rubbery.   The family was not wild about the texture, but I told them I would season it and they were willing to try the cooked version.
I wanted t0 conduct this test as though we were out at camp, and there are no other ingredients available except for water, salt and pepper.  First I warmed up the skillet then added the beef.  (Note:  I used a well seasoned cast iron skillet that needed no additional cooking oil, but if yours is not non stick, a bit of oil would be recommended.)  Then I added salt and pepper.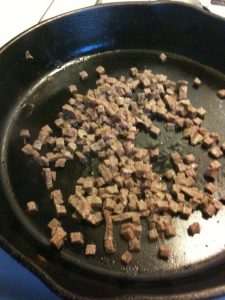 I browned the meat.  Here is the finished product: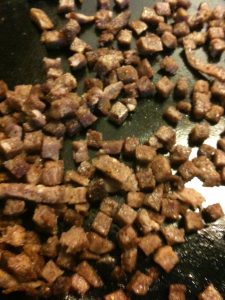 The meat pieces came out nicely browned.  The family and I tried it and were pleasantly surprised.  It had a really good beefy taste, and the texture was more of what you expect from roast beef.    The meat was tasty enough to eat on its own.  For this part of the test, we give it a thumbs up.
Tomorrow, I will finish the second part of this taste test:  I will make it for an actual family dinner and see if freeze dried roast beef is something I would keep around for everyday meals.
For more easy ways to become more prepared, read my book: