Written by Bernie Carr
I received a review copy of Paradise Creek: A true story of adventure in the Canadian Wilderness by David Scott. Though I rarely write reviews these days, I read the book with great interest – I like a good survival story. The author and his friend go in search of adventure and find challenges, trials and joy along the way.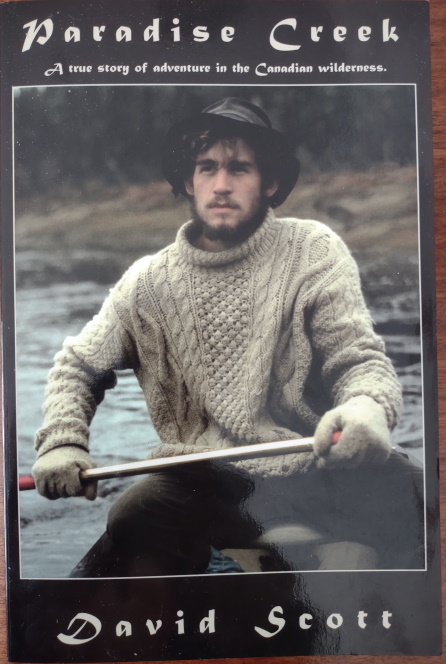 What is Paradise Creek about?
Two young men embark on a journey to experience life in a remote cabin out in a frozen wilderness. They take the time to learn about survival, carry adequate provisions before carrying out their plan. But things don't always go as envisioned. They face some trouble as soon as they begin their journey.
From the Amazon book description:
Picture a place 125 miles from the nearest human where the land is as wild and unpredictable as the adventure it delivers. Imagine stepping from a bush plane on to a frozen lake where the temperature is 60 degrees below zero. Three miles away sits a cabin that will be your home for the next year. Now, imagine not finding it for six bitter cold days. This is where the unforgettable true story begins for two young men in search of adventure in the Canadian wilderness. Share their struggle for survival, hunt moose for winter meat and build a cabin at Paradise Creek. Discover the joy and hardships of living for one year in a wilderness log cabin. This is a coming of age story. The range of emotions stretch from the pain of frostbite to the awesome splendor of Northern Lights. From the darkness and loneliness of a subarctic winter to the bliss of watching a sunset on a home-made swing. Journey with these two young men on an adventure you will never forget.

Amazon description
What I thought of the book
The book is fast-paced, and is a quick read. It is very descriptive without getting too bogged down with details. It was easy to imagine the beauty and splendor of their surroundings.
The paperback also includes color photos, which adds to the enjoyment of reading the book. The photos reflected what I had imagined from reading the book.
I liked that the two friends planned their trip properly and learned about survival before embarking on their adventure. They were certainly prepared. But nature is unpredictable so you have to keep your wits about you to survive. It's also a story of friendship and coming of age.
I don't want to give away the entire book. Suffice it to say, I enjoyed reading Paradise Creek, especially since it took me away to wild, faraway places and helped me get away from feeling cooped up while staying indoors during the pandemic.
Paradise Creek is a good adventure book and I recommend it. The story is wholesome and the language is appropriate for anyone age 10 and over. I read the paperback, but the book is also available as a Kindle e-book.
---
About the author:
Bernie Carr is the founder of Apartment Prepper. She has written several books including the best-selling Prepper's Pocket Guide, Jake and Miller's Big Adventure, The Penny-Pinching Prepper and How to Prepare for Most Emergencies on a $50 a Month Budget. Her work appears in sites such as the Allstate Blog and Clark.com, as well as print magazines such as Backwoods Survival Guide and Prepper Survival Guide. She has been featured in national publications such as Fox Business and Popular Mechanics. Learn more about Bernie here.