This post is by Bernie Carr, apartmentprepper.com
I passed by a new Dollar Tree so I thought I'd check it out.  I had visited the 99 Cents Only Store a while ago, and wanted to see if there were items I could pick up to add to the stockpile.  I took photos of various items that caught my eye.
Water
Spring water was going for $1 per gallon, which is cheaper than our supermarket, where a gallon is going for $1.25.  I run tap water through the Berkey and fill up empty soda bottles, but if you are just starting out you need to build a stockpile of water.   Picking up a couple of gallons of bottled water a week until you have at few days worth of water to start is a good idea.
Canned goods
The canned goods were on sale at $0.79.  They had a good selection of canned corn, mixed vegetables, green beans, peas etc.  I normally see them around $1.25 on sale at the supermarket.  Don't forget to check the expiration dates, and buy only the ones your family will eat.
Paper goods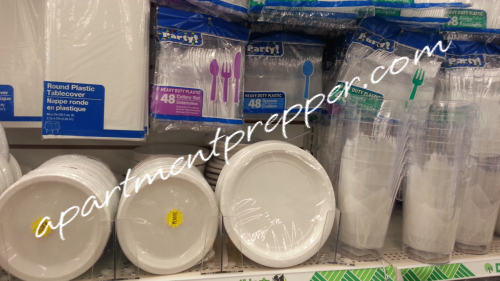 Paper plates, plastic utensils and cups can come in handy during an emergency when you have no water to wash dishes.  They are also good to have for "everyday emergencies" such as a last minute party at the school or a potluck at work.  These are not a bad deal for a dollar a pack.
As for toilet paper, I thought you can get a better deal at discount stores such as Walmart or Target, or even the supermarket when they go on sale.
Personal care
I thought the best deals were on personal care.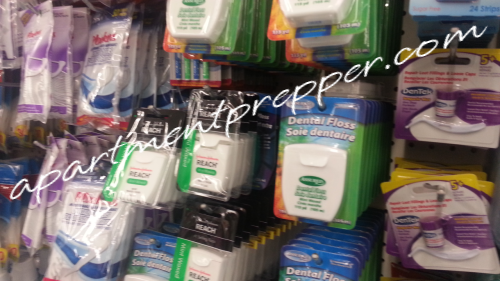 Floss (55 yds) for $1.00 is a good price – I saw the same one at the pharmacy for $1.79.
The cotton swabs were also a good.
I wouldn't recommend the pain relievers, the ones I saw were close to expiration:  February 2014 is much too close.
Miscellaneous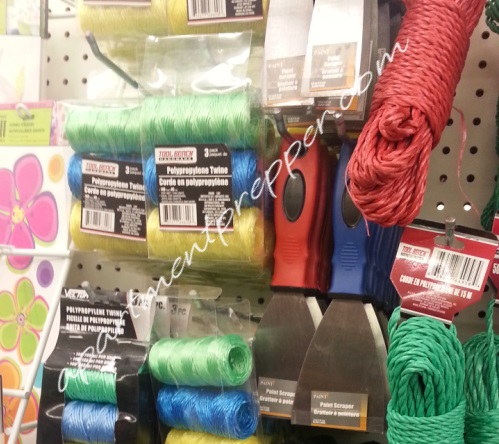 They had some nylon rope, which is good to have, but is usually overlooked.  At the last hurricane we used one to secure a tree branch to keep it from falling over.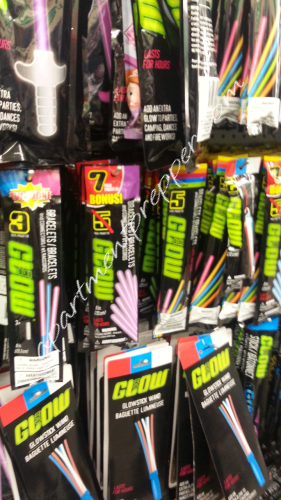 Glow sticks are also good to keep at a handy location during a sudden power outage.  They last a few hours, and are entertaining for kids.
Sponges and steel wool were also in abundance, so I picked up a few.
I also spotted safety pins, clothes pins (in case you have to hang laundry out to dry), mini sewing kits – items that I usually forget to pick up at larger stores, but know I will need.
I believe that anyone can slowly build a stockpile, even with just $5 a week, as long as it's done consistently.  Not everything is a great deal at the dollar store, but as long as you keep track of pricing and always check expiration dates, it is a worthwhile place to check for prepping supplies.
© Apartment Prepper 2013
For advice on how to prep on a budget: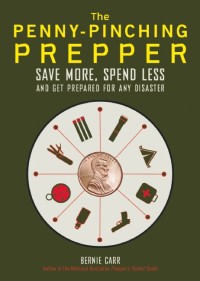 Water is one of the biggest needs when it comes to survival.  Whether bugging out or sheltering in place, you can never have enough clean water for survival:
For your water purifier needs, please visit
: