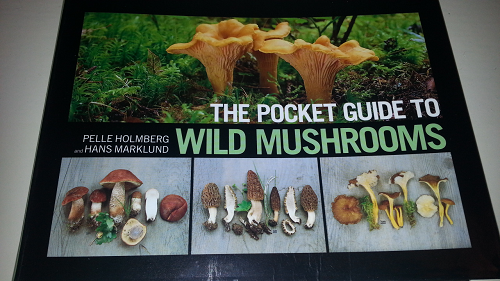 This post is by Bernie Carr, apartmentprepper.com
I spot a lot of mushrooms when taking walks and always wonder whether these wild mushrooms are safe to eat.  Now there is a handy book, The Pocket Guide to Wild Mushrooms by Pelle Holmberg and Hans Marklund, that will tell you which ones are edible or inedible.
The Pocket Guide to Wild Mushrooms contains helpful tips for picking, cleaning and preparing mushrooms, nutrition value, varieties and a large section on edible and poisonous mushrooms.  The full color photos are beautiful and exquisitely detailed so you'll see exactly what to mushrooms look like from top, bottom, sides and cross-sections.  The book has a color coding system to show specific details about the characteristics of mushroom and tells whether it can be confused with other similar mushrooms.  In this matter, you'll want as much detail as possible to avoid risking your health.
I liked the coding system and the descriptions of "look-alike" mushrooms are very helpful.  Because of the small size, it's easy enough to take with you if you were to go foraging for mushrooms.  It's a good book for people who really like mushrooms, and who would like to improve their foraging skills.  I've seen other books in the subject and this book
If I had to quibble about something, I'd say I would have liked to have seen a map so readers can see what common mushrooms grow in each area of the country.  However, the descriptions of the various mushroom species include information about where the mushroom thrives, i.e. "forests of Northern U.S. and Canada" etc.
Picking up mushrooms out in the wild can be dangerous and should not be attempted without learning about them first.   The section on "look-alike mushrooms" should be read thoroughly.  The Pocket Guide to Wild Mushrooms would be a good addition to your survival food library.
© Apartment Prepper 2013
For advice on how to prep on a budget: