This post is by Bernie Carr, apartmentprepper.com
I am always looking for various types of foods to add to our food storage.  When I received in invitation to try GreenBelly Meal2Go, I thought, "Why not?"   A nutritionally balanced meal bar would make a good addition to an emergency food stash.  Plus, I am always looking for lightweight meals that I can take backpacking or hiking.
First, a little background from the company:
A ready-to-eat super meal that provides 1/3 of your daily nutrition.
How is Greenbelly unique?
Nutritionally Complete. A 650 calorie meal, not a 250 calorie bar.
Ready-to-eat. No preparation and No cleanup.
Healthy. 100% Natural and Gluten Free.
Greenbelly Overview
An easy, healthy and nutritionally complete meal for adventurers. Something for executives working through lunch and cyclists riding through breakfast. We worked with a food scientist and French trained chef last year to develop our three flavors. Each meal provides a tasty and all natural one third of your daily nutrition for six core nutrients: calories, carbs, protein, sodium, fats and fiber. We quickly got orders from all 50 states and then launched a Kickstarter campaign in April 2015. Since April, we have scaled to a larger production facility, improved flavor profiles, new website, new resealable packaging and a growing team. We have the most convenient and nutritionally balanced meal on the market.
Founder's Story, Chris Cage
Chris Cage, the founder, quit his accounting job in 2012 and spent two years teaching English in Thailand, volunteering at an orphanage in Cambodia, bicycle touring 3,000 miles of New Zealand and finally hiking the 2,185 mile long Appalachian Trail.   He found that nutrition was a constant struggle. Whether it was cycling 100 miles in NZ or hiking 20 miles on the AT, he was burning up to 5,000 calories a day. On the road, getting a proper balance of nutrients required extensive preparation and meal planning. Fast food was unhealthy, fresh fruit was perishable, 250 calorie protein bars weren't filling and cooking was messy and time consuming. Creating the perfect meal became his mission.
Now for the taste test.
I tried the Cranberry Almond first.
To be honest, I have not found very many food bars that I can rave about.  The ones I have tried tend to be dry, crumbly or have an aftertaste.  I wasn't sure how this one would fare.
Surprisingly, the Greenbelly bar has a great taste.  You can really taste the fruit and nut pieces, which makes you feel that you are eating something more substantial than a bar.
The bar is also more dense than other bars that I have tried.  It is generously packed with fruit, nuts and grain, and I did not feel it was skimpy at all.  Because of this, I felt more satisfied after eating one bar.
Finally, I did not mind the texture of this bar.  It was moist enough to eat, but not too sticky.
Each meal packet contains two bars, as pictured.  I felt full after just eating one bar, so I saved the other bar for later.
I had Mr. Apt Prepper and Apt Prepper son test out the other two flavors.  They found the same thing as I did, but both ate the two bars in one sitting.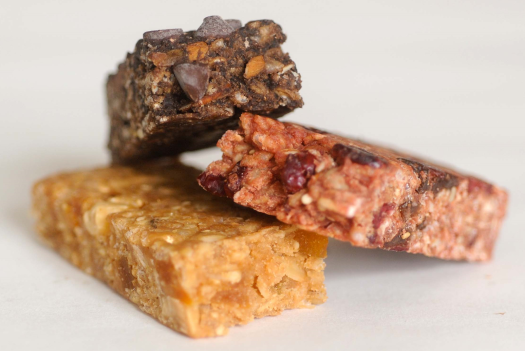 All in all, I'd recommend Green Belly Meal2Go for hiking, backpacking, camping and snacking.  As for food storage, the company has tested that it will last up to six months; or longer, if you can freeze it.  However, if you are storing in room temperature, you should rotate them every six months, just as you would cereal and granola bars.  If I had to eat these at least every six months, I would actually look forward to rotating them.  Give them a try!
© Apartment Prepper 2016
Disclosure: This is a professional review site that sometimes receives free merchandise from the companies whose products we review and recommend. We are independently owned and the opinions expressed here are our own. Apartmentprepper.com is a participant in the Amazon Services LLC Associates Program, an affiliate advertising program designed to provide a means for sites to earn advertising fees by advertising and linking to Amazon.com