This post is by Bernie Carr, apartmentprepper.com
I was contacted by Valley Food Storage regarding trying out one of their entrees.  I am always looking for long term storage foods that are tasty.  As you know, long term storage foods can be a hit or miss, but I am always willing to try new ones and offer an balanced review.  (Note we do not have any connection with Valley Food Storage and are not compensated for doing reviews.)
When I received the packet for testing, I saw it was called "Mango Habanero Chili."   To be honest, I was quite sure what to expect.  I am a big fan of chili, but I was not sure if mango really belongs in chili.  But I figured I would give it a try.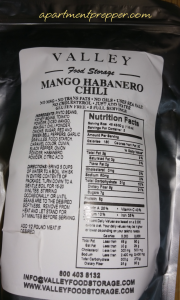 The instructions are simple:  Bring to a boil five cups of water, then add the chili mix.  Simmer for 15-20 minutes or until beans are tender.  Let cool for about five to seven minutes before serving.
I actually let it simmer for 25 minutes.  The mixture seemed a bit watery at first, but it thickened slightly as it cooled.
Now comes the taste test.  I took a spoonful and another one just to make sure.  In spite of my uncertainty, the Mango Habanero Chili was actually pretty tasty.  The chili is vegetarian – there is no meat listed in the ingredients at all.  I admit I like having meat in chili, and the instructions did say you can add meat if you like.  The dish is fine on its own, I actually ate a bowl (as pictured above) for lunch.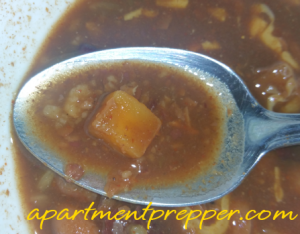 I examined the chili pieces and you actually find diced mango (pictured above) in the chili.  I can tell you I actually did not mind having mango pieces, it added an interesting twist.  The chili had the right amount of spiciness, and had enough flavor and not overly salty like other long term food storage entrees.
According to their website, Valley Food Storage uses natural food ingredients and a nitrogen flushing process will ensure the food's shelf life up to 25 years without any added preservatives, MSG, or GMO.
Quality ingredients and a long shelf life are definite advantages for a food storage entree.   Mango Habanero Chili also has a good flavor, which makes it a viable choice to add to your food pantry.
© Apartment Prepper 2014