This post is by Bernie Carr, apartmentprepper.com
Lately, I have been using coconut oil a lot, both for cooking and personal care.  I prefer virgin coconut oil, and I am glad I found out about Tropical Traditions Coconut Oil.
I received a sample of Tropical Traditions Coconut Oil.
The first thing I noticed was how well the product was packaged.  They really made sure the jar was well-cushioned in a sturdy box.
I tasted the coconut oil and it had a very mild "toasted coconut" flavor.  I was ready to try cooking with it.  For anyone who has never tried out coconut oil, this oil is solid but easily dissolves in low to medium heat.  Coconut oil tolerates high cooking temperatures well, and therefore ideal for deep frying.  However it can be used for other methods such as stir frying and pan frying, as long as your pan is sufficiently hot.
Cooking with Tropical Traditions Coconut Oil
I made Chicken Tenders using Tropical Traditions Coconut Oil. Here is a quick recipe:
1 lb. breast of chicken
corn starch
salt and pepper to taste, garlic powder
5 tbsp. coconut oil
Slice the chicken into bite size pieces.  Add garlic powder, salt and pepper to taste.  Coat liberally with corn starch.  Refrigerate for 10-12 minutes.
Using medium heat, melt five tbsp. coconut oil.  When oil is hot, add the chicken and fry until golden brown.  Serve with your favorite sauce or gravy.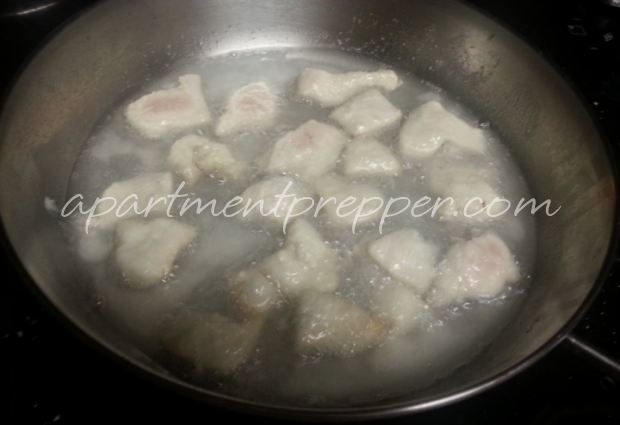 At first I thought it may come out with a coconut-y flavor which I don't mind but I was not sure if the family would like it.  I need not have worried:  the chicken turned out to be flavorful, but did not have a coconut taste or smell.  In fact, the chicken was delicious.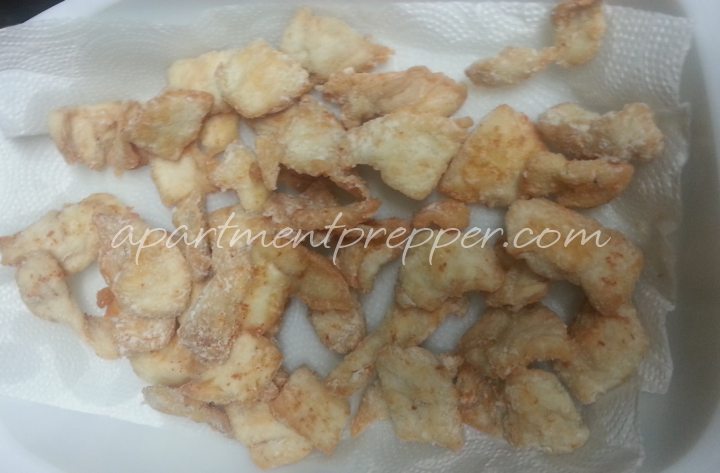 Other uses that I have tried:
Moisturize hands and face
Calm frizzy hair and add shine – add 1/2 teaspoon to palm and allow to dissolve.  Rub on hair, especially the ends.
In all cases, Tropical Traditions Gold Label Coconut Oil performed well.  I liked it so much I signed up as an affiliate.  The quart size is currently on sale for $29.50
For more information, please visit:
•    Gold Label Virgin Coconut Oil page (http://www.tropicaltraditions.com/virgin_coconut_oil.htm)
•    Embed our video on Gold Label Virgin Coconut Oil: http://www.youtube.com/watch?v=4h6eycjf29M
•    Tropical Traditions Home Page (http://www.tropicaltraditions.com/)
Disclaimer: Tropical Traditions provided me with a free sample of this product to review, and I was under no obligation to review it if I so chose. Nor was I under any obligation to write a positive review or sponsor a product giveaway in return for the free product.
© Apartment Prepper 2014