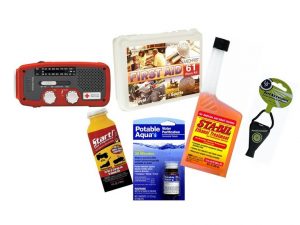 Although we're in the midst of summer and storms are not foremost in our minds right now, storm and tornado season is in full swing.  Each year, the United States gets an average of 5.9 hurricanes, 1,000 tornadoes and 10,000 severe thunderstorms. Storms can be as scary as they are unpredictable and cause immense damage. But, rather than fear the unknown, it is best to put worries aside and be prepared. The following are some important steps for ensuring you have the tools to brave potential storms.
Before the storm
Listen to the news and local forecasts to give yourself as much notice as possible
Secure a back-up generator, such as a Generac portable generator, and place it off the floor in case you experience flooding.
Make sure your generator is in working order by checking the oil and adding fresh fuel with a bottle of  STA-BIL Ethanol Treatment to keep the fuel fresh and combat damage from ethanol in today's gasoline.
Run the generator for a few minutes. If the generator does not start, add a bottle of Start Your Engines! Fuel Revitalizer to clean the fuel injectors, carburetor and intake valves and get the engine up and running quickly
Create a storm kit of must-have items, such as a battery operated radio, flashlights, batteries, candles, matches, bottled water, blankets, non-perishable food, can opener, first aid kit, list of phone numbers, prescription medications and games to pass the time
When a storm is on its way
Listen to the news to keep updated on the storm's status
Obey evacuation directions in dire situations
Make sure your cell phone is charged and keep a charger with you
Set your refrigerator and freezer controls to the coldest settings to keep food longer should the power go out
Fill your car's gas tank just in case you need to drive to safety
Take out a reasonable amount of cash in case ATMs are out of order
Tie down any large objects outdoors that may get thrown during a storm (e.g. patio furniture, toys) and place valuables inside in a safe place off the floor
Ensure a supply of water for sanitary purposes by filling your bathtub, sinks and other large containers with water
When a storm is in progress
Stay indoors and away from windows or glass doors
Take refuge in a small interior room or closet or below ground if possible
Listen to the news for updates and directions on how to proceed
I regularly receive emails and comments inquiring about prolonging the life of gasoline for storage.  Here is some information About STA-BIL from the manufacturer:
 
STA-BIL® is America's #1 selling fuel stabilizer. Stored fuel can go bad in as little as 30 days causing gum, varnish and corrosion to build up in the fuel lines and engine. STA-BIL brand products help keep fuel fresh and protect engines from corrosion, while cleaning fuel injectors, carburetors and intake valves to ensure your equipment from generators to chainsaws, leaf blowers and more are in working order when you need them most. Visit Sta-Bil.com.