This post is by Bernie Carr, apartmentprepper.com
We keep prepper spray as part of our overall defense strategy.   We have tiny key chain  sprays, as well as bear spray which we purchased for camping.   Pepper spray comes with expiration dates because of the likelihood that the nozzle will clog and no longer work when you need it.
Because the bear spray canisters are now a couple of years old, and well past expiration, we decided to test whether the spraying mechanism will still work.  We also wanted to check how many seconds it takes to un-holster the spray and actually activate the spray if a bear or an attacker were approaching.
Mr Apt Prepper and I went out behind our unit on a sunny day to do our test.
Safety Precautions:
We made sure there were no other people walking around nearby.
The test was done on a day it was not windy – there was an occasional slight breeze but no wind.
We checked the direction the breeze was coming from.
Here is a photo of the item we were testing – the UDAP Bear Spray: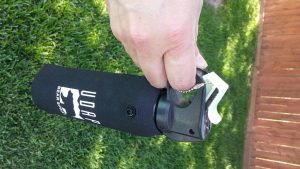 First, we tried to simulate an attack scenario:
An average bear can run about 30 miles an hour; while a fast one can run 40 miles an hour.   Pepper spray is actually effective if you can spray the bear while it is 40 to 50 feet away, to create a barrier of pepper spray mist between you and the bear.
It only takes a few seconds for a rampaging bear to get close and in that time period, the test is to release the safety and press the nozzle to spray before the bear gets within 40 feet.  When I first tried it, I was way too slow.  The bear would've gotten me before I could even position the spray.
That was quite a realization, that although you may know how to use the spray, you need to do it fast enough.
Next we actually tested that the spray works.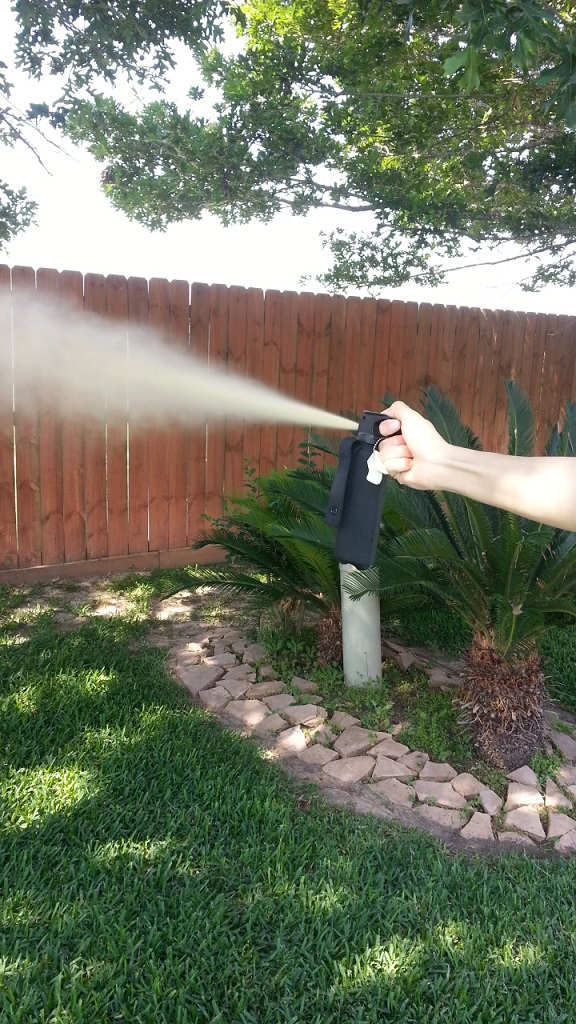 Even after two years, the spray was strong and steady.
That's when things got interesting.  The slight breeze that we checked earlier changed direction ever so slightly.  That small change was enough to disperse some of the spray toward our direction, maybe a drop or two.  But these two drops were enough – Mr. Apt Prepper felt his eyes stinging and I felt a sudden urge to start coughing.  We quickly ran to the faucet to wash it off.
Considering it was only a few drops, there was enough to feel some discomfort.  Imagine if you were actually getting attacked outside, and you use the spray while neglecting to check the wind direction.
I'm not saying you should not use pepper spray – I still think it's a good non-lethal method of protection.  You just have to be careful and make sure you are aware of a couple of factors:
How fast you need to be when you use it
Even a slight breeze can cause a "blow-back"
And of course, I should point out I am hardly the expert when it comes to weapons, but do recognize the need for some kind of protection.  Just like other weapons, beware and use at your own risk.  However, I'm glad we tried this exercise, now I am more mindful of possible pitfalls should I ever have to use it.