This post is by Bernie Carr, apartmentprepper.com
Today we are reviewing the Survival Hax 10 in 1 Paracord EDC Keychain with Waterproof Pill Bottle.
What is it?
It's a key chain (comprised of woven paracord and carabiner), with a waterproof pill container that contains a survival kit. 
I opened the pill container and found:

cotton tinder
fire starter rod
fishing line
hooks
weights
floaters
sinkers
swivels
eye knife
safety pins
wire saw
I'm amazed they were able fit all these items inside.  The paracord unties to 4 feet.  If you were to be stranded out in the wilderness you can assemble everything you need to make your own fishing pole, as well as build a fire.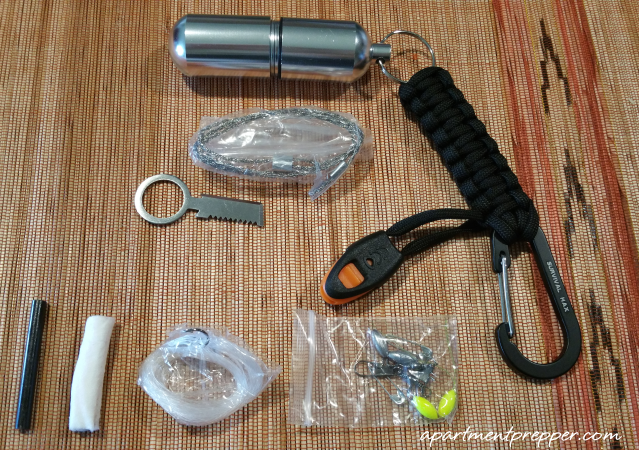 The keychain, pill bottle and items inside all look to be well-constructed.
What I like about it is, I can customize the contents for whatever I need to carry.  I assembled a mini first aid kit and fit everything in the pill bottle quite easily.   They are handy to have around.   It is reasonably priced.  I plan to get a couple more:  one to carry and to give as gifts.  You can find them at the Survival Hax website or here.