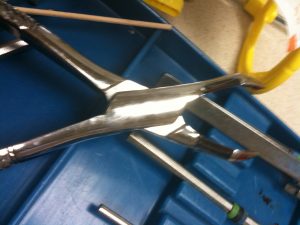 This post is by Bernie Carr, apartmentprepper.com
At this week's Monday Musings I mentioned I was taking care of an elective, pre-emptive health issue.  I had been putting this off for several months now, and finally decided now is the time to do it.  I guess announcing it helped me move it along.
What was it?
I finally went ahead and had my last wisdom tooth pulled out.  I had three impacted wisdom teeth taken out back in my twenties, but the last one was healthy so it was left alone.
A couple of years ago a dentist recommended it should come out.  Wisdom teeth, being hard to reach for brushing and flossing, are known to cause problems later in life:
-gum disease
-hard to fill cavities resulting in infection
I made the appointment but later canceled.  I reasoned that it was not that bad and the tooth was healthy.  I was in denial as it was actually causing problems.  The gums around it were sore.  At my last dental visit, the dentist said the only way to alleviate the problem is to extract the tooth.
The procedure
For anyone who has never done this, or is planning to, here is how mine went.  (Please note I have no background in dentistry, just sharing info.  See a dentist for advice; your own experience may vary)
There are two ways to go:  using a local anesthesia, where only the area is numbed, or a general anesthesia so you can be asleep during the procedure.  The general anesthesia option would have to be done by a dental surgeon who can administer that type of anesthesia.  General anesthesia is not covered by my insurance.  I opted for the local anesthesia, which my regular dentist can perform.
The first thing the dental assistant did was take a couple of x-rays so the dentist can see the root of the tooth clearly. The dentist then injected the anesthesia in the area of the tooth.  We waited around 15 minutes for it to take effect.  He came back and placed some shots in surrounding areas.  I didn't get that puffy, drooling numbness that I expected but the dentist assured me I would not feel any pain, just pressure.
He took forceps and started loosening the tooth.  He said it would be a back and forth sensation and it was.  Just like he said, I did not feel any pain, just a lot of pressure.  I imagined he was jiggling the tooth around.  I was praying the whole time that the tooth would come loose as a whole quickly as breakage would not be good news.  I started to get a cracking sensation at which time the entire tooth came out, root and all.  He asked if I wanted to see it and of course, I did.
I had to bite down on a piece of gauze for several minutes until the bleeding stopped.  I got a prescription for pain, in case it gets bad, but I have not had to use it.  I drove home and took it easy the rest of the day.   I was instructed to drink only cold liquids and eat very soft foods like yogurt for the next three days, and no exercise or strenuous activity.
The whole procedure took about 45 minutes at the most. It seemed relatively easy to get a tooth extracted during "normal" times.   But in a disaster situation, something simple like this would be such an ordeal:
Without anesthesia, getting a tooth extracted would be extremely painful, maybe unbearable.
It may be difficult to reach a dentist while a disaster is happening.
Lack of hygiene will cause infections.
Lack of antibiotics would be an issue if you get an infection
Even if things stay "normal"  you could lose dental insurance for a period of time.  Without adequate coverage, it would be expensive to cover the cost.
A good resource for dental emergencies in a disaster is "When There is No Dentist" available as a free download from Hesperian.org
All in all, it's just common sense to take care of these issues ahead of time, before things get worse.   What have you been putting off?

© Apartment Prepper 2012
For more preparedness tips, read my book: