This post is by Bernie Carr, apartmentprepper.com
Today we are featuring a new book, The Stranger in the Woods: The Extraordinary Story of the Last True Hermit by Michael Finkel.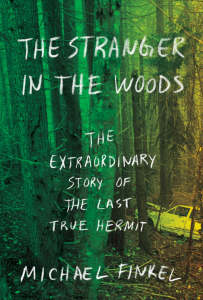 What is the book about?
The book is about the the North Pond Hermit, Christopher Knight, who lived alone in the Maine woods, without any human contact, for 27 years. Having seen the stories about his capture in the news back in 2013, I thought it would make for an interesting read. The author weaves a tale drawn from from the author's correspondence and visits with the hermit, police records, burglary victims' accounts, townspeople stories and site visits. It covers the span of time from when Knight left his home at age 20 without telling anyone, his life in the woods for 27 years, to his eventual capture during a burglary, incarceration and parole. It is said that Christopher Knight was contacted by over 500 journalists, but would only share his story with Michael Finkel.
What I thought about the book
As someone who enjoys spending time outdoors, I've occasionally wondered what would it be like to just leave everything behind. I am sure lots of people have had thoughts like this but few actually act on it. Michael Knight, the hermit was an exception. He drove into the Maine woods until he could go no further, left his car and found himself a camp site. I thought it was a fascinating story, and can only imagine what it may have been like living through brutal Maine winters, without ever lighting a fire for fear of discovery. He stole food, tools and equipment to survive, along with reading material to pass the time. Although his survival depended on stealing supplies, he never hurt anyone physically. He did not have any survival training, yet managed to survive by using skills learned growing up, knowledge gained from reading the Foxfire series, and common sense. The author does a good job piecing together bits and pieces of gathered information to tell the tale. Although I also was not as keen on such background information as historical discussions about hermits, the psychological aspects of solitude and loneliness etc., I liked the book overall. I felt conflicted about Knight's choice to embark on a life of stealing in spite of his own misgivings. Ultimately, it was the hermit's story and ability to live apart from society that captured my imagination. He desired solitude and oneness with nature above all else.
The Giveaway
The publisher is providing one giveaway copy of The Stranger in the Woods: The Extraordinary Story of the Last True Hermit. The winner chosen via Rafflecopter on 4/14/2017. Winner must respond within 48 hours of receiving the email or another name will be drawn.
We've made it as easy as possible to enter, with lots of opportunities to win.