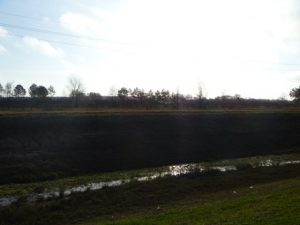 This post is by Bernie Carr, apartmentprepper.com
If the power grid were to go down for a period of time, municipal water filtration systems may not function properly.  Most of us have heard of "Boil water" ordinances in our own cities when a section of town gets a water main break.  That's because the water in the area becomes contaminated and is no longer safe to drink.  This can happen in a widespread area if the power grid were to fail for a period of time.
The idea for this post started when reader Dave from Florida sent me an enlightening email about how our water supply is vulnerable.  He works as wastewater operator and therefore has good insight on city water supply systems.  Dave was agreeable to parts of his email included in this article.  Thanks Dave!
Purification Process
Most cities get their their water supply from an aquifer deep underground.  Water normally goes through several stages of the purification process before it gets to your tap.
Sedimentation – Treatment plants pump water into a reservoir as a holding area to allow large solid particles to settle down.   The clear water above the sediment will then be ready for the next stage.
Filtration – The water will go through various materials such as gravel, sand and carbon to remove the smaller particles that affect the taste and appearance of water.
Disinfection – The water is then pumped to a water plant where they will disinfect the water to get rid of bacteria and viruses before it can become potable.  Most areas add flouride.   Opinions vary on the wide use of flouride, as many believe that flouride MIGHT be good for your teeth, but is not meant for ingestion.   But that is for another post.  For now, we will stick to the subject of city water.
When water is cleaned at a plant, chlorine is used to sanitize the water, but it is also largely removed before the water leaves the plant so it doesn't kill the fish in the streams. Chlorine is considered a pesticide and can be harmful if ingested in large amounts.  Chlorine a.k.a bleach sanitizes the water to make it drinkable.  Regulation states that the water plant has to test the water from time to time at the furthest leg from the plant to ensure that that there is enough chlorine in the water as it gets further away from the plant.  It might make more sense to add chlorine somewhere in the middle between the plant and farthest leg however that would be too expensive.  So the plant increases the chlorine amounts to make sure the farthest areas get enough.  On the downside, if you live close to the plant you are getting much higher doses of chlorine.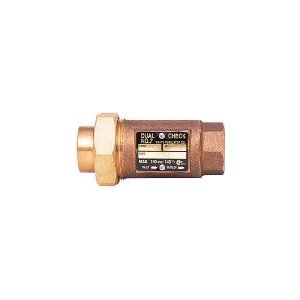 The Role of the Backlow Preventer
Once the water is disinfected it is ready for consumption.  We now take a look at a little known appliance that is installed in your home as it is built and then forgotten: the backflow preventer.   These devices are very important and yet, get very little attention.   The backflow preventer makes sure that water that gets in through your pipe will not go back out through it.  It makes the water flowing into your house a one way stream.
This is important because if the city loses pressure, then the flow can reverse and the outgoing pipes would suck the water back like a siphon.  The backflow preventer is supposed to keep this from happening.
Backflow preventers normally have a lifespan of five years at the very best. Most are only good for two. That means if your house is older, it is very possible that the backflow preventer is not working at all.
Our tap water is safe to drink as long as it never comes in contact with unclean water.  However, "cross connections" can occur.  A cross connection means potable water coming into contact with contaminated water.  For example, a cross-connection can potentially happen if you leave a garden hose lying in puddle of mud.
As long as the backflow preventer is working properly, your cross connections won't affect you.  But what happens if it stops working?  When the water lines lose pressure you can actually watch the hose drain a giant puddle in your yard as the potable water pipes are sucking it past your backflow preventer and into the water system that feeds all down-flow customers.  Even in a non-emergency situation, cross connections can sully your household's water if your backflow preventer is not working properly.  Since there is no regulation that governs the maintenance of this key piece of equipment, all your water safety disappears as you or anyone up stream from you can easily cross connect your clean water supply with not-so-clean water.  (Dave did mention that business and industrial backflow preventers are regulated, while residential ones are not.)  It is still possible to have cross connections with businesses in the neighborhood, such as restaurants, allowing small amounts of dirty water in.  The reason you don't hear about any problems is because there is the dilution factor and the chlorine in your drinking water kills off contaminants that accidentally gets in.
What this means for homes and apartments during a disaster
In a grid down situation, when water is not being filtered properly, the failure of the backflow preventer and contamination due to cross connections can become dangerous to your family's health.
If you are a homeowner, check your records to see when was the last time the backflow preventer was replaced.  Chances are, it was installed when your house was built.  Have your plumber inspect and replace it if needed.
In an apartment building, your building management may know when the backflow preventer was last replaced.  However, from my experience, most management companies have high turnover rate and generally are not knowledgeable about such matters.  If the manager does not know, check with the maintenance supervisor.
Learn how to shut off the city water from entering your home in the event of a disaster.
Keep at least two weeks worth of water for everyone in your household.
You should have one gallon per person per day.
Learn how to filter water to remove sediment.
Have a back up stove to be able to boil water.
Choose a good water purifier.  In our household, we use the Big Berkey for everyday use, with a set of back up filter units.
Set aside additional water for household use.  I am considering keeping a water barrel in the garage to add to our water storage.
Water is such a necessity and should be a top priority for emergency supplies.  Reconsider your water storage today.
© Apartment Prepper 2012
ReadyMade Resources is a trusted source for your preparedness supplies: