This post is by Bernie Carr, apartmentprepper.com
I've had a few Hits and Misses with long term storage foods, so I am always wary when anticipating a new product tryout.  I never know how it will turn out.  I received a sample of E-Foods meals.  (Note: Apartment Prepper is not affiliated with E-foods; just providing an independent review.) 
The package contained three entrees:  Creamy Potato Soup, Chicken Tortilla Soup, and Chicken and Rice Soup, with each packet containing about four servings.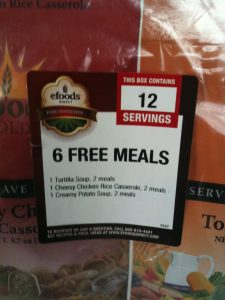 The sample for Creamy Potato Soup was the one I opened for this review.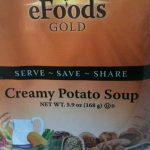 Preparation was easy:
1.  Boil 4 1/2 cups of water.
  Add the soup mix.  The soup mix looked a bit like instant mashed potatoes so I wasn't sure how it would turn out
2.  Stir well and lower heat.
3.  Let it simmer for 15-20 minutes.  I wanted the soup to be soft and creamy so I left it for 25 minutes.
The instructions mentioned you can add other ingredients such as bacon, chicken clams, or corn for variety.  I did not add any other ingredients as I wanted to try it plain.
The resulting soup had chunks of potato, was creamy and flavorful.  I would say a packet that includes four servings would be enough to feed two adults for a hearty dinner.
 © Apartment Prepper 2012